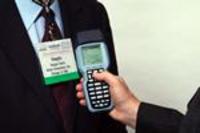 The Golf Industry Show chose to partner with Dietze Enterprises, Inc. because of it's cutting edge technology capabilities such as RFID, and exemplary customer service and dedication to the trade show industry
Chicago, IL (PRWEB) October 26, 2007
Dietze Enterprises, Inc., a global trade show provider of advanced lead retrieval solutions, today announced it has been awarded the 2008 Golf Industry Show contract. Scheduled for January 31 to February 2, Orlando Florida, The Golf Industry Show will feature its signature interactive solution centers, as well as the largest exhibit floor in the industry. The Golf Industry Show (http://www.golfindustryshow.com) is an innovative trade show designed for the owners/operators of golf facilities, and the professional members of the golf course and club management industries.
Dietze Enterprises, Inc., delivers the most advanced lead retrieval system capabilities on the market today and will serve as the exclusive lead retrieval contractor, providing a complete RFID solution to include RFBadge(TM), BadgeWare(TM), RFID badge printing software, an advanced exhibitor lead retrieval system, and RFSentry(TM) for hands-free trade show floor auditing.
"The Golf Industry Show chose to partner with Dietze Enterprises, Inc. because of it's cutting edge technology capabilities such as RFID, and exemplary customer service and dedication to the trade show industry," explains Julia Ozark, CEM, Golf Industry Show Trade Show Manager. "We look forward to introducing Dietze and the RFID technology at our upcoming event, and to the vast data analysis this will allow us to better serve exhibitors and attendees."
This relationship will enable The Golf Industry Show to enhance its trade show services and aid its technical agility. The Dietze RFSentry(TM) portals will be used on site to gather exhibit hall and general session traffic data.
"With the selection of Dietze Enterprises, The Golf Industry Show has made a commitment to continued innovation in its industry", encourages Karl Ludwig, IT Director for Dietze Enterprises, "Our trade show portal monitors will collect a wealth of data that, when analyzed, will reveal critical attendee information per the trade show visit patterns, and the exhibitors will enjoy the speed and simplicity of using our NOMAD RF(TM) hand-held RFID badge scanners. Total collective information will prove to be valuable and beneficial for marketing to future exhibitors and sponsors."
The Dietze mission encompasses flexibility, customization and cost- efficiency in a complete range of solutions for trade show managers, exhibitors and attendees. Integrated RFID technology allows Dietze Enterprises to uniquely provide customers the agility to manage delivery of access control, session tracking and lead management data.
"The idea of using attendee validation data as a business strategy requires companies and associations to think beyond simple data collection," says Vaughn Dietze, CEO, Dietze Enterprises, Inc. "Our goal is to educate the trade show industry by rapidly increasing our RFID product exposure, and industry expertise to global industry segments. We would like the Dietze brand to become the trusted go to partner for lead retrieval optimization, and emerging best practices for trade show professionals."
ABOUT DIETZE ENTERPRISES, INC.
Established in 1989, Dietze Enterprises, Inc. http://www.dietze-inc.com , has been providing advanced exhibitor lead retrieval session tracking technology and services to exhibitors and trade show managers. An 18-year track record of success in forging a leadership position in trade show lead retrieval, has relied upon a belief in the Dietze mission, helping to build an enviable reputation for customer service.
ABOUT GIS
The Golf Industry Show is presented by the GCSAA, the National Golf Course Owners Association (NGCOA) and the Club Managers Association of America (CMAA), along with supporting organizations, the Golf Course Builders Association of America (GCBAA), the American Society of Golf Course Architects (ASGCA) and the National Golf Foundation (NGF). All three presenting partners also held their annual educational conferences during the week leading up to and following the Golf Industry Show, creating a team atmosphere for golf course superintendents, owners and club managers, where the entire management team of a golf facility could come to one place at one time to receive quality continuing education and interact with pertinent commercial suppliers together as a team.
TRADEMARKS
The names, trademarks, and logos appearing on this document, are the property of Dietze Enterprises Inc., and may not be used in any manner without the express prior written permission of Dietze Enterprises, Inc.
For more information about Dietze Enterprises: toll free 800-266-9933, direct 312-329-9073 or info@leadretrieval.com
# # #