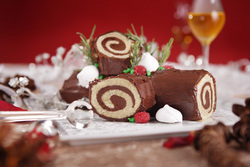 New York, NY (PRWEB) October 27, 2007
Sofitel, the luxury brand of Accor hotels, brightens the holiday season by introducing guests to a time-honored French holiday tradition. Beginning December 1, Sofitel will offer La Bûche de Noël cakes at all North American Sofitel restaurants, providing the opportunity for patrons to experience this special dessert.
Resembling a traditional Yule Log, La Bûche de Noël cakes are rumored to have been created by French bakers during the reign of Napoleon I (1769 - 1821). It was during this time, Napoleon ordered the citizens in Paris to seal up their chimneys during winter months as he thought the cold air caused medical problems. This proclamation therefore prevented the Parisians from gathering around the Christmas Yule Log to engage in French traditions so long associated with Christmas. La Bûche de Noël became the symbolic replacement for the hearth, providing a place to which the family could gather for carols, story telling and holiday delights.
The intricate cakes are made from a genoise cake generally baked in a large, shallow jelly roll pan, frosted, rolled into a cylinder and then frosted again -- thus resembling a log. Often the end is then cut off and placed by the side or on top to resemble a chopped off branch.
Miniature Bûches de Noël desserts will be available during lunch and dinner in all Sofitel restaurants from Dec. 1 - 26. Additionally, each Sofitel will also create a special Bûche de Noël display that will be presented in the lobby during the week of Christmas.
About Sofitel North America:
Created in France in 1964, Sofitel is the prestige brand of Accor hotels with 200 upscale hotels in 53 countries, including 10 in North America. Sofitel hotels are ideally placed in business and leisure locations across North America, including Chicago Downtown, Chicago O'Hare, Minneapolis, Miami, Montreal, New York, Philadelphia, San Francisco, and Washington, D.C.
Sofitel: premium hotels around the world
Because no one country or city is the same, Sofitel has made each of its hotels around the world a truly unique establishment. Combining the spirit of each place with the values of modernity, refinement and absolute comfort, they are all imbued in their inimitable way with the French "art de vivre".
Whether their setting is a great business metropolis like Paris, New York or Bangkok, or nestling in the landscape in Indonesia, Polynesia or Brazil, each Sofitel hotel offers travelers a genuine haven of peace. So that each guest, for an overnight stay or longer, during a business trip or for a holiday, can enjoy the rich variety of these unique places in comfort and tranquility.
Accor, the European leader and a major global group in hotels, the global leader in services to corporate clients and public institutions, operates in nearly 100 countries with 170,000 employees. It offers to its clients over 40 years of expertise in its two core businesses:
Accor, the European leader in hotels and tourism, and a global leader in corporate services, operates in nearly 100 countries with 170,000 employees. It offers to its individual and corporate clients 40 years of expertise in its two core businesses:

Hotels, with the Sofitel, Pullman, Novotel, Mercure, Suitehotel, Ibis, All Seasons, Etap Hotel, Formule 1, Motel 6 and Studio 6 brands: over 4,100 hotels and 486,000 rooms in 90 countries, as well as strategically related activities, such as Lenôtre ;
Services to corporate clients and public institutions: 23 million people in 35 countries benefit from Accor Services products - meal and food vouchers, people care, incentive and loyalty programs.
###