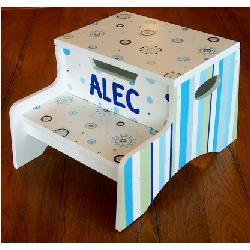 McKinney, TX (PRWEB) October 26, 2007
GiggleBrush Designs announced today that they will be offering 10% off and free shipping with coupon "cadenlane10" on all Caden Lane baby bedding and diaper bags now through December 31, 2007. Ordering is quick and convenient with their online store, or customers may call them direct at 1-800-609-3426 to order with a customer care agent. For those that live in the Dallas, Texas area, they may visit the new store at 5080 Virginia Parkway, Suite 300, McKinney, TX to view the complete Caden Lane line of baby bedding and diaper bags.
GiggleBrush Designs also exclusively offers custom painted wall letters, book holders, personalized step stools, wall shelves and more to match the Caden Lane products. Spell your child's name for only $5 per letter with the purchase of a bedding set. The letters are painted to match the striped, dot and circle Caden Lane fabrics.
Need a great idea for the holidays? Choose one of the Caden Lane diaper bags and fill it with accessories like the matching bib sets, burp cloths and blankets. Include a gift certificate for personalized items once the baby arrives. Don't forget to enter coupon "Bags10" to receive 10% off and free shipping on any Caden Lane diaper bag.
###