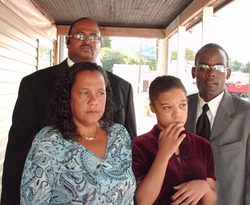 Logan, WV (PRWEB) October 26, 2007
Police say that 20-year-old Megan Williams of Charleston, West Virginia was held captive for nearly a week while six alleged perpetrators physically assaulted, raped and tortured her.
When the Honorable Minister Louis Farrakhan read of the alleged rape and torture of the young woman, he sent a delegation to Charleston, West Virginia to determine the facts of the case. The Final Call Newspaper conducted an exclusive interview with Megan Williams and her adopted mother, Carmen Williams, on Thursday, October 4, 2007, at their home.
"We received a tip that a subject was being held against their will at Big Creek," said Logan County Deputy Jeffrey Robinette. "Typically this involves a welfare check to see if someone is in need or injured."
Deputy Robinette testified during a preliminary hearing (Case # 07F915-918) on Thursday, Oct. 4, against defendant Karen Burton, that when he arrived at the residence to investigate the "tip," he saw Frankie Brewster another defendant and the owner of the house on the porch. When he questioned her, she stated that she was the only person in the house. It was at that time, Deputy Robinette stated during testimony that victim Megan Williams burst out of the doors with "her arms outstretched saying 'help me.' "
Logan County Magistrate Jeffrey Lane found sufficient probable cause to send the case against the sixth defendant, Karen Burton, to a Grand Jury for indictment in the alleged rape, torture and assault of Megan Williams. The charges against Burton and the remaining five defendants are to be presented to a Grand Jury in January 2008, according to Logan County Prosecutor Brian Abraham.
For the first time, Megan Williams' in her own words, describes her five day ordeal.
To read the full interview, go: http://www.finalcall.com/artman/publish/article_3997.shtml
To read the full report from FinalCall.com News, go: http://www.finalcall.com/artman/publish/article_3996.shtml
Organizers from across the country are mobilizing for a November 3, 2007 national march and a call to action in support of Megan Williams and victims of hate crimes nationwide.
About the Final Call Newspaper:
The Final Call Newspaper is the country's leading source for news and information about issues and events relative to the Black community. Founded by the Honorable Louis Farrakhan, National Representative of The Most Honorable Elijah Muhammad, The Final Call follows in the tradition of Muhammad Speaks, with hard-hitting national and international news and coverage of political and social issues. It is the official communications organ of the Nation of Islam.
###