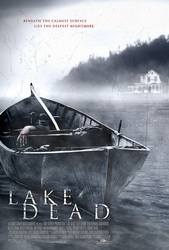 Los Angeles, CA (PRWEB) October 26, 2007
Alliance Group Entertainment's slasher horror film "Lake Dead" will be a part of the After Dark Horrorfest "8 FILMS TO DIE FOR". The film will screen across the United States during Horrorfest, November 9-18, 2007
Lake Dead, which star Alex A. Quinn, Pat McNeely, Jim Devoti, Kelsey Wedeen, James C. Burns, Kelsey Crane and Tara Garad, tells the story of the Lake sisters, Brielle (Kelsey Crane), Kelli (Kelsey Wedeen) and Sam (Tara Gerard), who travel to a remote motel which they've inherited from their recently deceased grandfather. They soon find that the property is occupied by a deranged backwoods family, and a deviant killing spree ensues.
Lake Dead marks the feature film directorial debut of George Bessudo and is executive produced by Mike Karkeh. George Bessudo recently completed production of his second film, Alliance Group Entertainment's psychological thriller, "Farmhouse", starring Steven Weber (Wings, The Shinning), Kelly Hu (X-Men: United), William Lee Scott (Pearl Harbor), Jamie Brown-Allmen (The Notebook), Sam Sarpong (MTV's Yo Momma), Drew Sidora (Step up), Jack Donner (Star Trek, The Invisible) and Adair Tishler (Heroes).
"It is truly an honor to be selected to one of the premier horror venues of our time, and we at Alliance Group Entertainment believe in positioning ourselves to the infinite world of possibilities," says Mike Karkeh of Alliance Group Entertainment.
For more information regarding Lake Dead and the After Dark Horrorfest please visit http://www.alliancegrpent.com and http://www.horrorfestonline.com .
About Alliance Group Entertainment:
Alliance Group Entertainment http://www.alliancegrpent.com is a multifaceted entertainment company with divisions in music, production, management and television. Alliance Group Entertainment is committed to delivering the premier talent and music portal that bridges the entire scope of the changing landscape that is Hollywood entertainment. By providing a clear, direct and definitive vision, artists can utilize their talents and abilities without restraint.
# # #