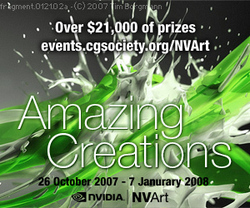 NVIDIA are a driving force in the graphics industry and this competition is a great opportunity for artists to gain global exposure and a chance to win great prizes
Adelaide, S.Australia (PRWEB) October 26, 2007
The CGSociety, a division of Ballistic Media, today announced 'Amazing Creations,' a new worldwide contest for digital artists. "The 'Amazing Creations' competition represents a tremendous opportunity for the digital arts community," stated Mark Snoswell, president of the CGSociety. "Throughout the ages, artists have been dreamers and visionaries, creating truly amazing and inspiring works of art. But they have been limited by the physical media in which they work. This competition embodies the attraction of digital art: the opportunity to create beautiful images free from physical limitations."
The competition was created jointly with the sole sponsor NVIDIA and has a prize pool valued at over $21,000. "NVIDIA are a driving force in the graphics industry and this competition is a great opportunity for artists to gain global exposure and a chance to win great prizes," said Snoswell. "NVIDIA have been a constant and significant supporter of the CGSociety and Ballistic Media. They are major sponsors of our CGChallenges and we are pleased to expand our relationship with them."
"NVIDIA is all about visual computing. It's in our DNA," added Dan Vivoli, senior vice president, NVIDIA. "We've always been inspired by the incredible creativity of 3D artists and content creators and we look forward to seeing the ways in which this contest will ignite their imaginations."
Submissions will be reviewed by a distinguished panel of judges, including:

Pascal Blanche, Concept Artist/Art Director, Ubisoft
Francisco Cortina, 3D Artist
Lorne Lanning, Co-Founder and Creative Director, Oddworld Inhabitants
Stephan Martinere, Concept Artist/Creative Visual Director, Midway Games
JoAnne Northup, Senior Curator, San Jose Art Museum
Shelley Page, Head of International Outreach, Dreamworks
Mark Snoswell, President, CGSociety
Steven Stahlberg, Lead Artist
David Wright, Creative Director, NVIDIA
The deadline for contest submissions is January 7, 2008 Winners will be announced at the San Jose Art Museum, in the heart of Silicon Valley, on January 24th, 2008. For additional details and information on the rules, please visit our competition page
About the CG Society
The CG Society is the most respected and accessible global organization for creative digital artists. The CGS supports artists at every level by offering a range of services to connect, inform, educate and promote, by celebrating achievement, excellence and innovation in all aspects of digital art. The CGSociety, along with its sister organisation Ballistic Publishing, is a division of Ballistic Media.
Ballistic Publishing is an independent publisher of books for the digital arts industry. The company established in 2003 is dedicated to producing high quality publications celebrating the talents of digital artists worldwide. For more information, visit CGSociety and Ballistic Publishing
About NVIDIA
NVIDIA Corporation is the worldwide leader in programmable graphics processor technologies. The Company creates innovative, industry-changing products for computing, consumer electronics and mobile devices. NVIDIA is based in Santa Clara, CA and has offices throughout Asia, Europe, and the Americas. For more information, visit NVIDIA
# # #