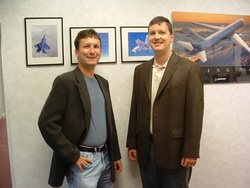 This recognition is a tribute to our customers, who have always been supportive
Minneapolis, MN (PRWEB) October 27, 2007
Third Wave Systems, the pioneering machining-modeling software and services provider, has been selected as one of the Minneapolis/St. Paul Business Journal's 2007 Fast 50 Private Companies. Third Wave earned the 49th position among private companies in the 11-county metro area.
The list of this year's Fast 50 honorees was announced during an awards ceremony on October 25, at Windows on Minnesota, and published in the October 26 issue of the Minneapolis/St. Paul Business Journal. Third Wave Systems' rank reflects the company's revenue growth of more than 64 percent over the past three years.
"This recognition is a tribute to our customers, who have always been supportive," said Kerry Marusich, President and CEO of Third Wave Systems. "It is also a compliment to our staff, who works tirelessly to deliver innovative products."
To qualify for the Fast 50 list, companies must be independently owned and privately held, headquartered in the Twin Cities metro area, experience year-over-year revenue growth for each of the past three fiscal years, and have revenue of at least $1 million in the first of the three most recent fiscal years.
About Third Wave Systems:
Third Waves Systems provides material-based, process modeling software to dramatically reduce lifecycle costs and time to market, for machined components in aerospace, automotive, semiconductor, optics, and medical device markets. Headquartered in Minneapolis, Minnesota, USA, Third Wave Systems also has offices in Detroit, Michigan and in Sheffield, UK. The company has major distributors in Europe, Japan, and Korea.
###