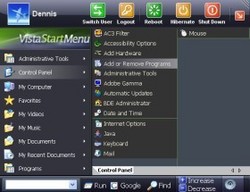 Kiev, Ukraine (PRWEB) October 29, 2007

OrdinarySoft releases new version of Vista Start Menu, an alternative to standard Windows Start Menu. It takes the 'quick start' concept to the next level by taking full advantage of users' visual memory. The new version features Instant Search which allows searching the PC as fast and easy as searching the Web.
Instant search feature lets users quickly find the exact file or e-mail message they need and organize the content the way they like. The search results are displayed in a clear way, so you will not have to spend more time on 'searching the search'. You will get the results at once and increase your productivity in times.
It is important that Instant Search in Vista Start Menu allows Windows XP users to benefit from a more robust Windows Search technology which is already built into Windows Vista. The new search feature, integrated in Start Menu interface, works as fast as you can type to provide the results users need right now.
Vista Start Menu enables Windows Vista users to instantly find documents, media files, e-mail messages and attachments, and many other file types the way they are used to. Users can quickly scan through results and open the items right from the start menu. New Instant Search feature is an essential addition to other powerful features in Vista Start Menu.
One of the most useful features of Vista Start Menu is "One-click launch" which among all options in the list of program folder automatically finds the option that launches the program and allows users to do it in one click. Moreover, each program in the program list is shown with its own icon and preserves its position in the list which makes its easier for user's visual memory to quickly select the needed program. Also Vista Start Menu lets users categorize items in the most convenient way by creating unlimited number of tabs.
When installed on computer with Windows Vista operating system, Vista Start Menu uses this platform system index which supports indexing for over 200 common file types by using a filename or text within the file. Once system index finishes the initial scan, the search will take seconds instead of minutes and any new file or email becomes searchable shortly after arrival. On Windows XP computers Vista Start Menu uses its own system index for Instant Search that finds files by their titles.
Vista Start Menu is a better 'quick start' solution for both beginners and experienced users, because it is easily understandable and highly customizable. It is much more powerful than standard Windows Start Menu or its alternatives: while it offers more to its users, each of its features is well thought and designed not to overkill but to work with ease.
###