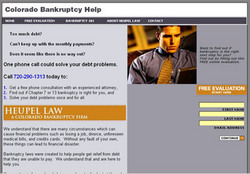 We understand that people who are contemplating bankruptcy cannot afford to pay large attorney fees. We offer a free initial consultation, competitive prices, and payment plans to allow people to make an educated decision about their financial future
Littleton, CO (PRWEB) October 29, 2007
Filing bankruptcy is a huge step that can be overwhelming, expensive, and time consuming. Heupel Law, P.C. announces new services and website features including free online bankruptcy evaluations, free initial consultations, and payment plans. Heupel Law is dedicated to providing clients with knowledgeable and accurate answers to all of their bankruptcy questions.
The Heupel Law website includes several new features. The free online bankruptcy evaluation is a quick way to get the process started. With easy-to-use applications, their website is a convenient first step to the possibility of filing bankruptcy. The Heupel Law website also includes information about Chapter 7 and 13 bankruptcies and new bankruptcy laws.
In addition, Heupel Law offers a free initial consultation to clients. This option allows clients to discover if this is the correct path for them without initiating further debt. A personal bankruptcy lawyer will answer all of the client's questions during this professional consultation.
Owner of Heupel Law, P.C., Kevin Heupel, explains, "Our goal is to turn obstacles into opportunities. We understand that there are numerous circumstances that may cause financial problems, including the increase in the foreclosure market. Many people feel that filing bankruptcy is the end of the road. However, bankruptcy isn't the end or a stigma; it's actually the beginning of a new, fresh financial life."
As an experienced personal bankruptcy lawyer, Kevin Heupel has developed an affordable way to help those in financial need. Heupel Law provides detailed legal advice on bankruptcy, which entails the planning, determining qualifications, and coordinating the process until completion. Additionally, they offer clients bankruptcy facts including the types of bankruptcy and how to declare bankruptcy.
By offering free advice and consultations, Heupel Law allows clients to determine if they should proceed. Knowledgeable with new bankruptcy laws, Heupel Law can answer both Chapter 7 and 13 bankruptcy questions accurately.
"We understand that people who are contemplating bankruptcy cannot afford to pay large attorney fees. We offer a free initial consultation, competitive prices, and payment plans to allow people to make an educated decision about their financial future," explains Heupel.
To learn more about filing bankruptcy or for answers to your bankruptcy questions, please visit CoBankruptcyHelp.com.
About Heupel Law, P.C.:
Kevin Heupel has been a licensed attorney for over ten years. He is a former Assistant Attorney General and an experienced bankruptcy attorney. Heupel Law, P.C. is dedicated to wholly serving the community and clients. With a pledge to superior service and personal attention from start to finish, Heupel Law will answer all of the client's questions and provide bankruptcy facts.
###