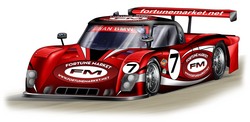 Fortune Market Racing allows us to reach new markets
Los Angeles, CA (PRWEB) October 30, 2007
A familiar racing team with a new name will become a part of the Grand-Am Rolex Sports Car Series Daytona Prototype ranks for the 2008 season.
Fortune Market Media, Inc., a multimedia firm has recently acquired Sigalsport. The two entities are now the Fortune Market Racing team - soon to become the first North American publicly traded race team.
SPEED TV Grand-Am Rolex Sports Car Series commentator, Calvin Fish, will be introducing the new team at this year's SEMA Show on October 31st at 9:10 a.m. (PDT)/ 12:10 p.m. (EDT). The No. 7 Fortune Market BMW Dinan Riley Daytona Prototype will be on display at the Grand-Am booth through the duration of the 2007 Las Vegas, SEMA Show.
"Fortune Market Racing allows us to reach new markets," according to Fortune Market president and CEO, Arthur Kats. In addition to racing, Fortune Market owns and operates several streams of media including radio, print-publication, multimedia, online and offline direct guerilla marketing and a web database with over 5,000,000 active subscribers. All of Fortune Markets media channels are self sustaining. "As a multimedia company, we look to take advantage of all forms of communication to reach our customers," adds Kats.
Along with David Levy, executive vice president and Ryan Tomlinson, executive vice president/ director of media; they have worked together combining their strengths to bring Fortune Market to the forefront of media and communications. Fortune Market adds the racing team to its already growing list of diverse streams of media including Fortune Market Radio and Future Rhythm Media Group
Gene Sigal, the former owner of Sigalsport, continues as vice president and director of Fortune Market Racing. Sigal will also be one of two season drivers for the team. "This is an exceptional chance for me as a director of Fortune Market Racing to be part of the publicly traded racing team. It's exciting news for the racing industry. Our race fans can now contact their stock broker and become part of history too" commented Sigal. "We have developed a new sponsorship concept that should help the team sign new partners and reach new corporate sponsors," added Sigal.
Sigal started Sigalsport in 2004 and has competed in the Grand-Am Rolex Sports Car Series as an owner/driver, racing a Porsche GT3 in the SGS class. During the 2004 season, Sigalsport posted several podium finishes and won the season finale at California Speedway.
In 2005, Sigal hired Emmanuel Lupe as team and marketing manager. With Lupe and his 25 years of international F1, Indy Racing and endurance racing experience and multiple championship wins, Sigalsport campaigned Porsches and BMW M3s in the GT class during the 2005 and 2006 seasons.
The '06 summer found the team growing even more with the addition of a Daytona Prototype program. The team spent the last six races of the 2006 season getting familiar with the new Daytona Prototype car and getting their program dialed-in while planning for a full 2007 campaign. Being the only BMW powered prototype in the field; they worked feverishly with Steve Dinan and his engineers on their BMW V8 engine program and were fully loaded for the 2007 Rolex 24 season opener. Unfortunately, the team did not finish their first two races due to unexpected incidents. The third race, The Grand Prix of Miami at Homestead Miami Speedway, proved to be the turning point, as they posted their first win in the Daytona Prototype class. This was an historic achievement knowing that the team took its only eighth Daytona Prototype start that day.
Fortune Market Racing, the only Grand-Am Rolex Sports Car Series DP team based on the west coast, is not just another racing team. It's a juggernaut quickly pushing its way through the North American endurance racing DP ranks on a mission. Fortune Market Racing is rising to the top proving it to be a focused and very serious contender for the championship this season.
The Fortune Market Racing team will be on track for the first time with its new livery and new drivers' lineup on November 14-15 at Daytona International Speedway during the Grand-Am Rolex Sports Car Series Pirelli open tests to prepare for the 2008 season that will start with the grueling Rolex 24 hours of Daytona on January 26-27, 2008.
About Fortune Market Media, Inc.
Fortune Market Media, Inc. is a diversified media and communications company providing businesses with a variety of financial-, consumer- and investor-related communications services. Fortune Market creates awareness among investors, consumers and potential partners through its multi-channel streams of media. More information is available at http://www.fortunemarket.net.
###