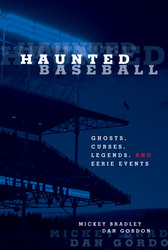 So you wonder is that a message from Jimmy Warfield, or if that was Jimmy Warfield's ghost walking around.
Boston, MA (PRWEB) October 29, 2007
The Curse of the Bambino may be a distant memory for Red Sox fans, but who says the ghosts of Fenway didn't call this year's shots? According to the baseball insiders interviewed for the new book "Haunted Baseball: Ghosts, Curses, Legends & Eerie Events" (Lyons Press, Sept 2007), Fenway Park is still haunted by the ghosts of the Babe, legendary team owner Tom Yawkey, and former PA announcer Sherm Feller.
And they might just have favored the Sox.
"Haunted Baseball" is a collection of firsthand baseball ghost stories that co-authors Mickey Bradley and Dan Gordon collected from interviews with over 800 major league players, managers and coaches, as well as numerous stadium personnel and fans.
Although the authors heard from ballplayers and front office folks all across the country, there's a heavy concentration of anecdotes from Red Sox players and employees.

Red Sox current PA announcer Carl Beane tells why and how the legendary PA announcer Sherm Feller haunts his booth. Feller's deep baritone voice set the tone at Fenway Park from the Impossible Dream Year 1967 to 1992.
Members of the night cleaning crew at Fenway share eerie stories about the ghosts of Babe Ruth and others. When the light towers are shut off and the crew works in darkness, they hear strange noises--a wailing sound from the Green Monster, the cheering of fans in the empty stands, and the sounds of Babe Ruth taking BP.
Sox centerfielder Coco Crisp tells a story about a haunted elevator in the Westin St Francis hotel in San Francisco, visiting team hotel of the Oakland A's. Crisp recounts an eerie ride up to his room that left him sleepless that night. His teammate at the time with the Cleveland Indians, C.C. Sabathia, thought a ghost entered the elevator while he was on it and got off on the 17th floor. Veteran teammate and former Sox outfielder, Ellis Burks, swears a ghostly woman walked by him. Burks asked to change rooms.
Bill "Spaceman" Lee describes his many encounters with the departed Tom Yawkey, reincarnated as a bird. He says he has encountered Yawkey in the form of a pigeon in the players' parking lot at Fenway, as a crow that sits on the fence at Montreal, as a red-tailed hawk that follows him through the woods, and as a crow that dove on him in Medicine Hat . According to Lee, a pigeon that crashed into the seats at Fenway during the final game of the '78 season may have also been Yawkey.
The Colorado Rockies, who shared the World Series stage with the Sox, also had their believers:
Rockies third base coach Mike Gallego on Yankee Stadium ghosts: "You always thought that ghosts were in the hallways. When you were walking down to the old batting cages in the back, you always felt that. Guys would say, 'Watch the ghosts while you're walking down the halls.' And when you get toward rightfield you kinda peek over your shoulder and wonder. And I swear you can hear some bats cracking in the background when the machine is not on."
Gallego is among hundreds that believe that the Stadium is possessed. Derek Jeter, Alex Rodriguez, Jason Giambi, Mariano Rivera, Rickey Henderson and Chipper Jones are among many that told the authors that the home team gets a little help from the ghosts of past legends.
The ghosts may have well been in Coors Field during the Rockies sensational late-season and post-season run. The team went 21-1 to clinch the NL wildcard and sweep the first two rounds of the playoffs. But in the Fall Classic, the Sox found magic at Fenway and it traveled with the team to Denver.
According to those interviewed in "Haunted Baseball," the ghosts of baseball past have many homes. Legendary Cubs manager Charlie Grimm is said to still call the bullpen at Wrigley Field late at night. Merchandise workers at Dodger Stadium claim to have seen a ghost meandering on the diamond after games. Petco Park is rumored to have poltergeists that keep the overnight cleaning crew on edge. There have also been Babe Ruth sightings on a storied ballfield in St Pete. All-Star second baseman Michael Young describes a haunted room in Shreveport. Johnny Damon shares a fun story about being pinned down by a ghost.
Below are a few quotes from the book:
Alex Rodriguez: "You just feel like the ghosts of Yankee Stadium are overlooking the guys in pinstripes."
Todd Jones: "They say it's haunted. I've heard that the walls breathe in and out."
Terry Adams: "Balls go into the vines [at Wrigley Field] and days later, no balls. It's weird … they just disappear."
CC Sabathia: "The elevator door opens up and a gust of wind goes past us. I had chills."
Chipper Jones: "I don't know if it's Babe, Lou, or whoever. But it's not Derek Jeter coming to bat, but somebody else."
Troy Glaus: "They said that they built the stadium on old Indian burial grounds. That's why a lot of bad things happened."
Rickey Henderson : "The ghosts take over on who is going to win the ball game."
Omar Vizquel: "So you wonder is that a message from Jimmy Warfield, or if that was Jimmy Warfield's ghost walking around."
Mike Piazza: "Not to get too much into clairvoyant, or mystical, or whatever. But yeah, I think that there was definitely an energy there."
Michael Young: "My roommate wakes me up in the middle of the night and says he saw a ghost above him. He was freaking out. So I got a big glob of toothpaste and put a big cross on the door and I told him, 'Is this good enough for you? 'Cause I'm going back to sleep.'"
Derek Jeter: "[The spirits] helped out. Maybe they helped push some of our balls over the fence and got us some of the right hops and the right bounces."
Johnny Damon: "I was awake and I was trying to move and I just couldn't. I passed the time thinking, 'A ghost is holding me down.'"
Coco Crisp: "That whole night I was wide-eyed."
----------------------------------------------------------------------------------------------------------------
HAUNTED BASEBALL - AMAZING FACTS
Many players believe that the ghosts of Yankee greats still reside at the Stadium and help the team out in the late innings of big games.
The Cubs ownership was so surprised by the team's 1998 winning season they had paranormal investigators come to Wrigley to see if the ghost of beloved announcer Harry Caray was responsible. The researchers found unusual "energies" in the park.
Superstar Johnny Damon believes he was once held down by a ghost in his home.
Tropicana Field is built on land that used to house three cemeteries - perhaps explaining a "curse" fans feel has hindered the team.
In a real-life Field of Dreams story, a doctor in Illinois has been visited by the ghost of Chicago Black Sox star Buck Weaver and has launched a major campaign to clear the banned player's name.
Many current major league players are convinced the posh visiting team hotel for the Tampa Bay Devil Rays is haunted.
Players on both the Yankees and the Diamondbacks feel that the spirits of those lost in the 9/11 attacks were present at Yankee Stadium during that year's World Series and played a part in the Yankees' stunning late-inning comebacks.
Players on the Triple-A Iowa Cubs believe that gifts and cards from a superfan there can determine the course of their careers.
Pitcher Jose Lima is convinced that his 7-16 record in 2000 was the result of a curse put on him by a mysterious woman.
For decades prior to their 2002 World Series victory, players on The Los Angeles Angels of Anaheim felt so "cursed" by a blitz of bizarre injuries that they once brought in a witch to help undo the spell.
Workers on the "graveyard shift" at Fenway Park , Wrigley Field, Petco Park , and Dodger Stadium report eerie late-night encounters with poltergeists.
A small community ball field in St. Peterburg , FL was once home to Babe Ruth, Lou Gehrig, Casey Stengel, Joe DiMaggio, and many other baseball greats … and is now said to be home to their ghosts.
Lou Gehrig may have been warned of his fatal illness by a Ouija Board。
Last week, feature stories on Haunted Baseball have run in the Boston Herald, New York Sun, Rocky Mountain News, Albany Times Union, Providence Journal and Akron Beacon Journal. Kyodo News is releasing a story before Halloween. The authors have also appeared on WDAE TV Pittsburgh, WJW Fox News Cleveland, WPIX Morning Show
With the World Series underway and Halloween season in session, this topic is particularly timely.
###