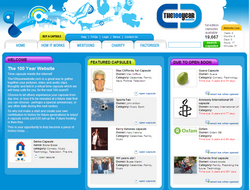 some interesting surprises as well.
(PRWEB) October 29, 2007
A Charles Henderson from the UK has uploaded several videos and messages into an online time capsule from The100YearWebsite.com and virtually buried it to open in 5 years time, during which time he believes he will have passed away. Apparently the capsule will contain messages to his family about what he really thinks of them all, and "some interesting surprises as well."
Mr. Henderson is certain he will have passed away within 5 years but has agreed with The100YearWebsite.com that he may change the opening of his capsule as and when he requires.
A spokesperson for The100YearWebsite.com said: "Mr. Henderson has contacted us and we have agreed that we will allow him to tweak the opening date as he sees fit, he seems very upbeat about the whole thing (dying) and I get the impression he is enjoying winding everyone up about what will be revealed. He has told the family there will be quite a few revelations, both about themselves and also with regards to some financial matters. From talking to Mr. Henderson, he is certainly well educated and I get the impression there may well be a large amount of money at stake. It will be interesting to see what skeletons are in the closet, or maybe the donkey sanctuary is in for a windfall, I suppose we will have to wait and see."
About The100YearWebsite.com
The100YearWebsite allows users to put text, audio, video and photographs in an online time capsule which the site will ensure is readable and accessible over the next 100 years. Clients can choose to have their capsule open from day 1, password protected so only family and friends can read it or to bury it until a time of their choosing in the future.
Visit http://www.the100yearwebsite.com
###