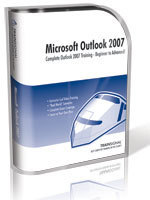 Rolling Meadows, IL (PRWEB) October 30, 2007
Train Signal, Inc. has just released new Microsoft Outlook 2007 Training videos. The course is the first in their new line of training for Microsoft Office Suite programs.
Microsoft Outlook 2007 is Microsoft's latest and much improved email solution. It can be used alone or alongside any of the Microsoft Office Suite programs and offers better ways to manage time and information making it easier to locate, prioritize, and act on the volumes of information businesses encounter every day. Because Microsoft Outlook 2007 offers new safer than ever data sharing features (including improved access to SharePoint Services 3.0 information and Exchange Server 2007 technology), businesses are better equipped to connect across boundaries with a higher level of information protection.
Featuring over eight hours of all instructor led training, Train Signal's Microsoft Outlook 2007 Training includes the following topics: Introduction to Microsoft Outlook 2007, Installation, Setting Up Profiles, Domain Names, Locating a Host, and Creating Email Accounts, Sending Messages, What's New, Personalizing the Outlook 2007 Interface, Managing Tasks, Contacts, and Personal Contact Information, Using & Managing Distribution Lists, 3rd Party Add-Ons, Business Contact Manager, and more. Train Signal's Outlook 2007 training course also provides complete coverage for Exam 77-604 MCAS: Using Microsoft Office Outlook 2007.
The Microsoft Outlook 2007 training videos sell for $99.95, plus shipping. Because it features Windows Media Video compression, the course can be viewed with standard Windows Media Players and requires no additional software.
The course is instructed by Scott Lowe (MCSE, CNA). Lowe has been serving the IT industry for 14 years, and is currently the Chief Information Officer at Westminster College in Fulton, Missouri. He has authored more than 500 articles for CNet's TechRepublic and writes their weekly Exchange Newsletter tip and biweekly Storage Newsletter. Lowe is also the author of O'Reilly's Home Networking: the Missing Manual, and co-author of Microsoft Press' Microsoft Exchange Server 2007 Administrator's Companion.
Director of Sales and Marketing, Gary Eimerman, says this about the new Microsoft Outlook 2007 training videos, "Microsoft Outlook 2007 is the first in a new series of Train Signal training video courses for Microsoft Office Suite programs. This course is designed for everyone and covers everything Outlook 2007 -- from Beginner to Advanced. With our complete Microsoft Outlook 2007 training, business professionals can do more than ever before with email and ultimately increase their overall productivity exponentially. And if you are an IT pro looking to advance your career in the corporate arena, then our training will help you master Outlook 2007 inside and out, get certified, and get your resume noticed."
Founded in 2002, Train Signal creates unique, high quality computer training products for the serious IT student and professional. Train Signal videos are shipped on CD-ROM, usually within 24 hours of order placement.
Train Signal has over 25 courses covering topics in Microsoft, Cisco, CompTIA, and Wireless Networking. Customers can purchase courses individually, or in Complete Bundle Sets on a convenient hard drive. Free demos for Train Signal video courses are available online.
For more product information, visit the website at http://www.trainsignal.com or call customer service at (888) 229-5055. For access to free IT training videos, exam questions, and the latest IT news, visit Train Signal's free training site at http://www.trainsignaltraining.com.
###