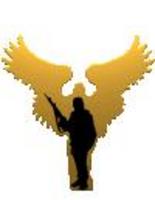 Pasadena, CA (PRWEB) October 29, 2007
In recognition of the continuing need to supply voice-activated and adapted-technology laptops to severely wounded military personnel; Project Valour-IT is mounting its 3rd annual Veterans Day fundraising drive among military and civilian bloggers. Teams of bloggers with thousands of readers are aligning themselves with their chosen service branch--Air Force, Army, Marine Corps, or Navy/Coast Guard--in a friendly competition to raise $240,000 before Veterans Day.
Well-known bloggers who have participated in the past include Michelle Malkin, Glenn Reynolds, Hugh Hewitt, Powerline, and NZ Bear. The blogger team leaders this year are Mudville Gazette, Blackfive, Soldiers' Angel Holly Aho, and Chaotic Synaptic Activity.
Wounded soldier Chuck Ziegenfuss' description of using a voice-controlled laptop during his recovery illustrates Valour-IT's power:
It was the first time I felt whole since I'd woken up wounded in Landstuhl.
Valour-IT is beyond simple "support." Access to laptops enables severely wounded war fighters to correspond with family and brothers in arms, connect with the world, and function as independent and effective members of society. Receiving a Valour-IT laptop is not simply a short-term emotional boost gleaned from the knowledge one is "remembered." It is assistance in reclaiming a bit of wholeness and independence in the face of life-altering injuries, repeated surgery, painful physical therapy, and the isolation of the hospital room. Each laptop reconnects a soldier and reestablishes personal dignity.
The competition will run from October 29 through Veterans Day, November 11. Anyone can donate or join the fundraising drive at the Valour-IT Homepage: http://www.soldiersangels.org/valour.
About Project Valour-IT
Project Valour-IT, run by non-profit Soldier's Angels Foundation, has provided over 1500 voice-activated laptops to severely wounded military personnel in conjunction with DoD CAP. For more information, see the project website at http://www.soldiersangels.org/valour. Soldier's Angels is a 501(c)(3) non-profit organization which has provided aide and comfort to thousands of members of the armed forces and their families through care packages, help for the wounded at military hospitals and support for military families. For more information on Soldier's Angels projects, see the program website at http://www.soldiersangels.org.
###