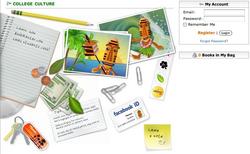 College students are one of our most important customer segments and we wanted to show our appreciation through a page dedicated just to them
San Jose, CA (PRWEB) October 29, 2007
BookRenter.com, an innovative new online book rental company specializing in textbook rentals, is pleased to announce the creation of its new College Culture page (http://www.bookrenter.com/college_culture).
With these new features, students can learn more about the company, connect with its spirited mascot, Tikiman, through his MySpace page, checkout the affiliate program, and access stylish BookRenter.com apparel and flier downloads to help spread the word about the benefits of renting instead of buying textbooks.
"College students are one of our most important customer segments and we wanted to show our appreciation through a page dedicated just to them," says Colin Barceloux, BookRenter.com's CEO and founder.
Students are quickly catching on to the advantages of renting through BookRenter.com instead of buying. Such benefits include savings of up to 75 percent, the elimination of the long lines and hassles associated with traditional college bookstores, and the environmentally-friendly practice of re-using books.
Though the site launched nationally as recently as August, it has already taken college campuses by storm. After only one semester, BookRenter.com has already received orders from students in 49 states.
About BookRenter.com
Based out of San Jose, California, BookRenter.com is the first online book rental company servicing the $40 billion retail book industry. BookRenter.com replaces traditional bookstore sales with online book rentals for customers nationwide. The company's flexible rental periods and hassle free return process save its customers up to 75% off retail prices. Its wide title selection, speedy delivery, and intuitive interface offer unparalleled convenience. For more information, visit http://www.bookrenter.com or contact Media Relations at media@bookrenter.com.
###