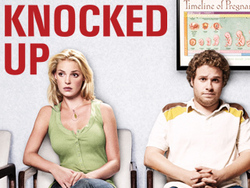 Jetset Studios is that rare company that shares our comedic sensibilities
Los Angele, CA (PRWEB) October 31, 2007
Los Angeles-based online agency Jetset Studios has won the prestigious 2007 Web Marketing Association Award for Best Entertainment Website for the creation, design and execution of the official website for Universal Pictures hit comedy Knocked Up.
"We are thrilled to have been given this honor, and we are elated that it was for Knocked Up, which was a very special project for us. We went the extra mile, and it shows," says Jetset CEO Russell Scott, who also serves as the company's creative director.
"Jetset Studios is that rare company that shares our comedic sensibilities," says Knocked Up writer/director Judd Apatow. "They understand how to create websites that capture the tone of the film in a fun, relatable way."
Jetset Studios serves as Apatow's online creative agency of choice, having also produced websites and viral features for Superbad, The 40 Year-Old Virgin, Talladega Nights and the upcoming Walk Hard.
Jetset Studios is one of the entertainment industry's most innovative producers of experiential media and online marketing campaigns spanning websites, viral content and games, rich media and mobile advertising that build emotional connections between the audience and brands. Founded in 1999, the company has demonstrated a proven track record to identify and leverage universal pop culture themes to generate brand awareness among targeted consumers, DVD sales, program ratings and box office results, having marketed feature films that boast box office receipts in excess of $4 billion. Other major studio titles Jetset Studios has supported include King Kong, Blades of Glory, Barnyard, Failure to Launch, The Hills Have Eyes, Hostel, Hulk, The Simpsons, My Super Ex-Girlfriend (for which the company was a 2007 Webby Award Honoree for Best Copy/Writing and Best Viral Video) and the upcoming Bee Movie.
For more information and to see the site visit http://www.jetsetstudios.com.
###