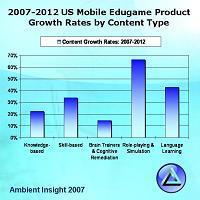 There is gold-rush mentality in the mobile edugame market. Innovative game developers and publishers have created new customers with fundamentally new types of learning-based games that appeal to a very large demographic
Seattle, WA (PRWEB) October 31, 2007
Ambient Insight is pleased to announce a new line of product market research focused on the US Mobile Game market.
"We've been watching the dramatic changes in the mobile industry and are ready to release our findings," says CEO Tyson Greer.
The first available report is, "The US Market for Handheld and Mobile Game-based Learning Products: 2007-2012 Forecast and Analysis," authored by Chief Research Officer, Sam S. Adkins. The analysis forecasts expenditures across eight buyer segments for three product types: content, services, and tools. The content analysis includes revenue forecasts for five types of mobile edugames: knowledge-based, skill-based, brain trainers, role-playing and simulation, and language learning.
"Less than two years ago the demand for handheld instructional games was highly localized to the consumer and K-12 buyer segments," comments Adkins. "The market has changed and by 2012 corporations will be outspending academic buyers. Mobile customer education advergames are in high demand now."
A free executive overview of the report is available at: http://www.ambientinsight.com/Reports/MobileGames.aspx
The research isolates the serious games being developed for four types of devices: dedicated gaming devices (such as the Nintendo DS or the Sony PSP), personal media players (PMPs), personal digital assistants (PDAs), and cell and smartphones. The report also includes a 2007-2012 analysis of US mobile operating system market share by vendor.
"There is gold-rush mentality in the mobile edugame market. Innovative game developers and publishers have created new customers with fundamentally new types of learning-based games that appeal to a very large demographic," adds Adkins. "The US market has undergone a remarkable transformation in the last 12 months. The current market favors suppliers that can 'game the system' and continue to create new customers."
About Ambient Insight LLC:
Ambient Insight is an integrity-based market research firm that uses predictive analytics to identify revenue opportunities for suppliers. Our research is unique because we analyze the spending behavior of eight buyer types: consumer, corporations, federal government, state and local government, PreK-12 academic, higher education, non-profits, and healthcare. Visit us at: http://www.ambientinsight.com
For more information on this research, please contact:
Sam S. Adkins, Chief Research Officer
Ambient Insight LLC
360-805-4298
###