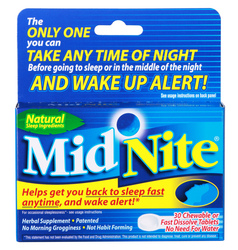 MidNite™ works differently from prescription, non-prescription and other herbal sleep products
Blauvelt, NY (PRWEB) October 30, 2007
To anyone who has spent precious sleep time watching late night re-runs and tossing and turning, middle of the night waking is all too familiar and not fun. Most of us can relate to what is called "sleep maintenance insomnia" and know how difficult it is to fall back to sleep. In today's fast-paced, high-stressed world, this loss of sleep is taking a toll on America's health, and many wish they could say "goodnight" to sleepless nights forever.
Sleep maintenance insomnia can be described as the problem of waking after one has initially fallen asleep. More than 20 million Americans report having some chronic form of insomnia that keeps them from sleeping well nearly every night. This can cause a myriad of problems from fatigue, exhaustion, headaches and depression to heart disease and obesity as a result.
According to the National Sleep Foundation, over one million Americans over the age of 18 - 54% of all U.S. adults experience some form of occasional sleeplessness a few nights per week or more. It is a surprise to some that 32% of people wake up in the middle of the night versus 21% of people who have difficulty initially falling asleep. And yet, until recently, there was nothing people could take if they woke in the middle of the night. That's because most sleep drugs keep one sedated for many hours and leave the user groggy if taken only a few hours before waking. That's why they are not approved for middle of the night use.
A new natural sleep remedy MidNite™ uses natural sleep ingredients that enable the body's natural sleep cycle to take over. Because it is not a sedative, this new herbal supplement with a patented blend of safe and natural ingredients is the first and only sleep remedy that can be taken anytime throughout the night with no drowsy, morning-after side effects. MidNite™ is physician recommended and contains a unique blend of natural herbs including melatonin (a substance that the body naturally secretes to help us get to sleep); Lemon Balm (an herb that helps calm nerves); Lavender (one of nature's most soothing herbs) and Chamomile (a natural herb known for its relaxing effects.)
Sleep has become a multibillion dollar industry.
In fact, the pharmaceutical sleep aid market has doubled in the last four years to a $4.5 billion market, while health concerns have soared. Nonetheless, prescription sleeping pills can have harmful side effects including next day sedation and even behavioral problems such as sleep binge eating and sleepwalking. They can be addictive and habit forming. Over the counter remedies also have their problems. The National Sleep Foundation reports that 49% of current over-the-counter sleep aid users feel drugged the next day and 36% have difficulty getting out of bed the next morning.
With concerns continuing to grow about the side effects that can come with prescription and over-the-counter sleep aids, the market for homeopathic and natural alternatives has greatly expanded in recent months. "People want safer and more natural ways to solve their sleep problems," says Holly Rosenthal, founder and president of Concepts in Health Inc., whose all-natural sleep aid MidNite™ recently became available to millions of sleepy Americans. Natural and herbal supplements can be a safe and highly effective solution for sleep problems.
"MidNite™ works differently from prescription, non-prescription and other herbal sleep products," Rosenthal added. "This new all-natural sleep remedy does not cause sedation and its complex blend of ingredients helps relax the body so the natural sleep cycle can take over. In fact, numerous clinical and safety tests have proven the safety, non-toxicity and effectiveness of the product's ingredients. More and more consumers are looking for natural solutions for their sleep problems ....MidNite™ is the best healthy alternative."
MidNite™ (http://www.Midnitesleep.com) is safe and easy to use. This pleasant tasting tablet is chewable and instantly dissolves without the need for water. It is available in food, drug and mass merchandisers nationwide for a suggested retail price of $9.99.
# # #