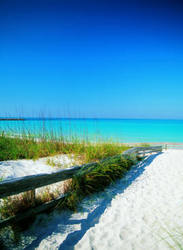 I wanted a way to offer second home ownership to everyone
Panama City, FL (PRWEB) October 30, 2007
A short time ago, Dr. Stephen Cochrane (Chief Regional Economist for Moody's Economy, http://www.infinitybluu.com) predicted Panama City, Florida as the #1 market for growth. In his prediction, he noted a projected 72% increase in real estate value over a 5 year period. Prominent real estate developer Nathan Glick is preparing for that prediction to come true. Today Nathan Glick announced to the reservation holders of his current project, Infinity Blu, http://www.infinityblu.com, the ground-breaking ceremony for the highly anticipated Panama City - Bay County International Airport. The date has been set for Thursday, November 1st, an event so welcome to the area that the News Herald is reporting Florida Governor Charlie Crist will be in attendance. This New International Airport will serve as a gateway to locations around the world.
The land for the airport, approximately 4,000 acres, was donated by The St. Joe Company (NYSE: JOE), Florida's largest real estate development company. The estimated total cost of completion is slated at approximately 331 million. Navy officials have announced that the new airport is also scheduled to serve as an aviation security test site including implementation by the Transportation Safety Administration (TSA) of a system that uses wireless cameras, sensors and motion detection devices.
"With a new airport, the opportunity for incredible economic development and real estate expansion is real," says Glick. "There hasn't been an airport built in the U.S. of this magnitude since Denver International and that was over 16 years ago. Do you know what that's going to do to this area?"
The new Panama City - Bay County International Airport has given Infinity Blu, http://www.infinityblu.com, the opportunity to do something no one else has in Panama City Beach. "I wanted a way to offer second home ownership to everyone," declares Glick. "I wanted it to be affordable, and give the consumer the option of renting or selling. I am not in the timeshare business, nor do I ever intend to be, so I wanted something genuine, and that's when I discovered fractional ownership."
Fractional ownership is a real estate concept that has continued to gain ground year after year. Originally geared towards ski resorts in areas such as Utah and Colorado, fractional real estate has made a big splash with beach front resort owners by providing an innovative way for 2nd home ownership. "Over 90% of our reservations for Infinity Blu have been fractions," boasts Glick. "We have a huge advantage as compared to other resorts on the Emerald Coast, all because of our precedent setting fractional ownership. This concept allows consumers to enjoy the advantages of our amenity rich resort facility, in a suite of their choosing that they return to year after year."
There is yet another Glick innovation and the first of its kind spreading like wild fire in the Panama City area. "Our precedent setting Real Estate Affiliate Program is exploding fractional sales," says Adam C. Berkley, Glick's Affiliate Manager. "Realtors are flocking to this concept from across the entire globe. We provide them their own Infinity Blu branded web sites, training on fractional real estate - it's a win/win proposition, http://www.joininfinityblu.com," says Berkley. "The clients of our Affiliates might never otherwise have known about the market. There are so many positives about our program including the potential for price appreciation for the client and the opportunity for up to a 10% referral on our fractional product for the Affiliate Real Estate Agent. Everyone wins!"
"The vision of Nathan Glick is revolutionary," announces CH Smith, senior marketing consultant for Infinity Blu. "Not only is the new ground breaking of this International Airport making history, so is Nathan Glick. At 31 he exemplifies genius, hard work, vision, innovation, and an uncommon natural ability to be in the right place at the right time."
Infinity Blu markets a variety of whole and fractional suites including 1/7th (7 weeks) starting in the $90's and 1/12th (monthly) starting in the 30's. Call 1-888-788-5860 or visit their website at http://www.infinityblu.com for details.
Realtor/Broker inquiries are welcome by linking to http://www.youandinfinityblu.com. Business opportunists or venture capitalists should email Nathan Glick at Nathan@infinityblu.com.
###