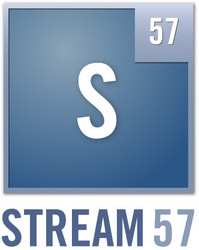 The site's great...I can't think of a better way to showcase our top-notch software and services
New York, NY (PRWEB) October 31, 2007
Stream57, the leading provider of fully customizable webcasting and rich media solutions for online communications, is set to launch its new company website on Halloween, Wednesday, October 31, 2007, at http://www.Stream57.com.
Never content with convention, Stream57's new online presence forgoes the traditional stuffy-vibe-and-corporate-jargon style, instead adhering to the company's strictly affable and unusually whimsical personality, reflecting the brand's stellar reputation for unparalleled client relations and the company's confidence and pride in their service and software.
Detailing Stream57's commitment to the latest in webcasting and rich media solutions, Stream57.com includes breakdowns of the company's approach to its innovative, fully-customizable software suite, StreamLine, as well as the full range of development, production and event services provided for each individual client. Already the rich media content delivery leader in the medical and pharmaceutical industries, Stream57's unique services are rapidly becoming the outlet of choice for clients across a wide variety of international industries.
"The site's great...I can't think of a better way to showcase our top-notch software and services," commented Stream57 President Ben Chodor. "There's nothing like being part of a company that takes so much pride in - and has so much fun doing - what it does best."
Before tricking and treating around the neighborhood this Halloween, be sure to stop by http://www.Stream57.com to take a look around our new digs on the 'Net.
About Stream57
Stream57 is an energetic team that believes in the power of the Internet for learning, marketing and entertainment. StreamLine, Stream57's cutting-edge webcast and rich media software suite, brings a new level of interactivity to online video presentations and e-learning. Founded in 2001 by President Ben Chodor, Stream57 has provided software and services for rich media delivery, webcasting, collaboration and e-learning, consistently evolving to stay at the forefront of the interactive and streaming media industry. Stream57 has engineered creative communication solutions for a wide range of distinguished clients, including several Fortune 1000 corporations, national charities, higher education institutions and health care organizations. For more information on Stream57's products and services, please call 212-909-2550 or visit the new http://www.Stream57.com .
###