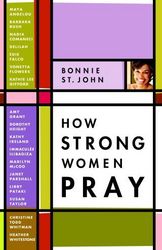 Now it's my turn to make a difference in the lives of others.
New York, New York (PRWEB) October 31, 2007
You may not have heard of Bonnie St. John before - but a lot of people find her to be unforgettable.
Triumphantly overcoming the odds of a leg amputation, sexual abuse, divorce, and single parenthood, this Olympic medalist is an example of what happens when strong women pray.
Due to a condition called pre-formal focal disorder, St. John had her right leg amputated above the knee when she was only five-years-old. Despite this challenge, she went on to excel as an athlete, scholar, mother, and businesswoman.
"When life gets too big to handle, I know I need to draw on a strength greater than my own," St. John said. "One of my favorite Bible verses is Philippians 4:13, which says, 'I can do all things through Christ, which strengthens me.' Some days, when I don't feel up to the task ahead of me, I say this verse and gain strength."
St. John is the first African-American ever to win medals in Winter Olympic competition as a ski racer. She won two Bronze Medals and a Silver Medal at the 1984 Paralympics in Innsbruck, Austria.
After graduating Magna Cum Laude from Harvard University in 1986 she won a Rhodes Scholarship to Oxford University where she earned her M.Litt. degree in Economics in 1990.
She then excelled as a sales representative for IBM before joining President Bill Clinton's administration as director for the newly formed National Economic Council.
She is now on a national book tour with her title HOW STRONG WOMEN PRAY (Faithwords, Nov. 2, 2007).
"I've been able to overcome tremendous challenges because people along the way helped me push through 'limits'," St. John said. "Now it's my turn to make a difference in the lives of others."
One person who certainly thinks she's achieving this goal through her most recent book "How Strong Women Pray" is Carol Evans, publisher of Working Mother magazine.
"Bonnie St. John's book will refresh you, sustain you, and guide you," Evans said. "She weaves her personal story of remarkable perseverance with the stories of so many amazing women who find strength and power in the healing aspects of prayer. Your own spirits will soar with theirs."
St. John will launch the book tour beginning in November in New York, Detroit, and Chicago:
Thursday, November 1 (Debut Book Signing)
6 to 8 p.m.
Hue-Man Book Store & Cafe
2319 Frederick Douglass Blvd.
New York, New York
Friday, November 2 (National Television Appearance)
7 to 10 a.m.
St. John will be interviewed on NBC's Today Show
Thursday, November 8 (Book Signing)
6 to 8 p.m. - Sponsored by the Jim Dandy Ski Club
Charles H. Wright Museum of African American History
315 East Warren
Detroit, Michigan - [Bonnie's birthplace]
Sunday, November 11 (Women's Day Speaker)
8 a.m. and 11 a.m.
The Historic Little Rock Missionary Baptist Church
9000 Woodward Avenue
Detroit, Michigan
Thursday, November 15 (Hospital Visit/Inspirational Speech)
Noon-2:30 p.m.
Shriners Hospital for Children [place where leg amputation of Bonnie was performed]
2211 North Oak Park Ave.
Chicago, Illinois
Thursday, November 15 (Book Signing)
6 to 8 p.m. - Sponsored by National Brotherhood of Skiers
Afro centric Bookstore
4655 S. King Drive
Chicago, Illinois
Bonnie St. John is one of the nation's leading inspirational speakers and has been featured on the Today Show, Montel Williams, CNN, Good Morning America, as well as People magazine, the New York Times, Essence, and many others. NBC Nightly News called her "one of America's most inspiring women."
For more information about her, visit her website at http://www.BonnieStJohn.com.
TITLE: How Strong Women Pray ISBN: 0-446-57926-2/ 978-0-446-57926-1 PUB DATE: November 2, 2007 PRICE: $16.99, BOOK INFO: HARDCOVER, 5 x 7-11/16
For media interviews, jpegs or review copies contact, Pam Perry, Ministry Marketing Solutions at 248.426-2300 or info(at)ministrymarketingsolutions.com
###