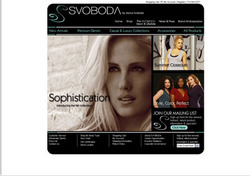 Our plus size designer jeans incorporate the latest trends and are designed to fit a full-figured woman's body flawlessly.
Santa Ana, CA (PRWEB) October 31, 2007
SVOBODA's newest line of plus size denim celebrates the full-figured woman with premium shapes designed to inspire confidence. With fashionable finds available at major U.S. department stores, boutiques, online retailers and SVOBODAStyle.com, plus size women everywhere can get both great fit and fashion.
For many plus size women, the problem with staying stylish is finding style in the right size. In a constant effort to remedy the problem, trendy plus size fashion designer, SVOBODA, has released its new line of plus size designer jeans to bring full-figured fashion that fits to the masses.
The new denim line offers everything in the newest, most fashion forward shapes. Wide leg trousers are key this season in addition to sailor trousers and 70s-inspired button-fly trousers. The collection also features the ever-popular skinny jean as well as the unconventional five-pocket in a number of updated washes.
"Every woman deserves one pair of well-cut, great fitting sexy jeans, which is why we give plus size women choice when it comes to designer plus size clothes," says SVOBODA Founder and Creative Director Jessica Svoboda. "Our plus size designer jeans incorporate the latest trends and are designed to fit a full-figured woman's body flawlessly."
In addition to looking good and feeling great in SVOBODA jeans, shapely shoppers can find SVOBODA premium denim with ease. Available in four major department stores, including Nordstrom, Neiman Marcus, Bloomingdale's and Saks Fifth Avenue, SVOBODA makes their fashions accessible, knowing the difficulty that many face due to the lack of plus size clothing stores. The company hopes that the convenience aspect will inspire confidence for plus size women and spur excitement about the way they dress.
"Looking good is about symmetry and proportion," says Company Spokesperson Kristine Svoboda. "You can't change your body overnight, but you can change the way it looks instantly by changing the way you dress. Knowing how to draw attention to your assets while downplaying problem areas is the key to feeling confident, sexy and feminine."
Aside from denim, SVOBODA provides a wealth of other designer plus size clothes and accessories, giving full-figured women more to choose from when it comes to everything from plus size party dresses to loungewear. Women can find knits to complement jeans and accessories to accent items from the casual and luxury collections either in-store or online. To see what plus size designer clothing SVOBODA has to offer, visit SVOBODAStyle.com.
About SVOBODA:
As a premier designer for trendy plus size clothing, SVOBODA is committed to creating clothing that builds confidence. Their line of designer plus size clothes ranges from high end plus size dresses to plus size casual outfits, giving shapely women more style and selection to add to their wardrobes. Since its founding in 2004, the company has become well-known for their ultra-chic attire and has been featured in numerous women's magazines such as InStyle and Glamour for their premium denim fashions.
###