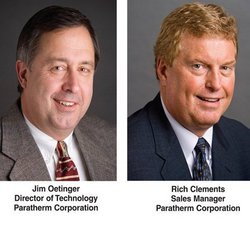 West Conshohocken, PA (PRWEB) October 31, 2007
In line with a shift to emphasize technical support for heat-transfer-fluid users more prominently, as opposed to traditional "product" sales, Paratherm has created a new position called Director of Technology and hired a new Sales Manager.
The company has realigned its thinking about how to approach the market based on customer feedback and research. Customers are increasingly concerned about problem solving, maintenance issues and answering emergencies rather than the actual products themselves. The need for supporting advice to users has grown substantially as witnessed by Paratherm as well as by numerous process equipment (heat exchanger and heater) manufacturers. Paratherm doesn't see competitors moving in this direction, so they are positioning themselves to seize this opportunity.
Paratherm's day-to-day efforts have long been focused on their clients' applications, systems and operations, on making access to expert assistance and quick turnaround--whether on technical questions or urgent orders--top priorities. The firm's belief in advising customers with responsiveness and expertise is embodied in the long-standing company slogan, "Engineering…not voicemail." And to fill orders quickly--sometimes very quickly in urgent situations--the company stocks heat transfer fluids in half-a-dozen North American locations and overseas in Europe, South America and Asia as well.
Jim Oetinger, who formerly headed the sales and technical functions at Paratherm, will now become Director of Technology. He will focus on solving heat transfer fluid problems and system issues that customers and potential customers call in about.
His broad experience spanning over thirty years in chemical-related industries gives him a wide range of experience to draw from. Mr. Oetinger has authored numerous articles on heat transfer fluids, systems and applications for trade and technical journals as well as speaking engagements. A member of the American Institute of Chemical Engineers, he holds an Engineering degree from Clarkson University and a Masters of Management degree from Northwestern University.
To better focus the current sales staff of a half dozen on-the-phone (on-the-computer) technical representatives, the firm has hired Rich Clements to spearhead sales in the role of Sales Manager.
Mr. Clements brings with him over twenty years of executive level sales management experience, much of it with a Fortune 500 company in industrial (chemical related) sales. As well, he holds a degree in Chemical Engineering from the University of Maryland. To round out his skill set, Mr. Clements has held positions as Product Director, Plant Manager and Plant Engineer.
About Paratherm Corporation:
Paratherm's Sludgebusters™ team provides advice, expertise, and analysis for thermal fluid systems and heat transfer fluids. Through their relationships with heater and equipment manufacturers, and their focused attention on the needs of customers, Paratherm engineers deliver smoothly operating systems and applications, and maximum production, to processors that choose Paratherm. Manufacturing and marketing non-toxic, high efficiency heat transfer fluids (also called thermal fluids or hot oils) since 1988 Paratherm Corporation currently has a customer base of over 3,000 users, largely in the chemical, food processing and plastics industries. The line consists of nine products performing at temperatures from -148° F to +650° F.
###