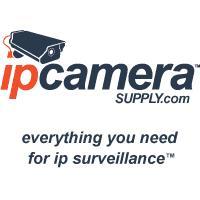 CCTV, as an analog, legacy ecosystem for surveillance, monitoring and recording, is on the same evolutionary path to IP that we are currently seeing in telephony
Buffalo, NY (PRWEB) October 31, 2007
VoIP Supply, the leading Internet retailer of Voice over IP Hardware today announced that it has launched IPCameraSupply.com, an Internet retailer of IP/CCTV surveillance and recording hardware including IP Cameras, Digital Video Recorders, Network Video Recorders and CCTV systems. Launched on Monday, IPCameraSupply.com is VoIP Supply's first entrance into the IP/CCTV surveillance and recording marketplace and the third Internet retailer they have launched over the past three years. This announcement comes on the heels of VoIP Supply's recent nomination to the Inc 500 list of fastest growing privately held companies in America.
"With the launch of IPCameraSupply.com our organization is taking another step towards becoming the leading multi-niche, emerging technologies Internet retailer in North America," stated Benjamin P. Sayers, CEO of VoIP Supply. "Customers, vendors and business partners of IPCameraSupply.com will experience the same high level of product knowledge, exceptional customer service, technical support and ease of doing business that they have come to expect from VoIP Supply. We are committed to making IPCameraSupply.com the leading Internet retailer for IP/CCTV surveillance and recording related products in the very near future using these same core principles that we used to propel VoIP Supply to the industry leading position it currently holds."
"CCTV, as an analog, legacy ecosystem for surveillance, monitoring and recording, is on the same evolutionary path to IP that we are currently seeing in telephony," stated Cory Andrews, Director of New Market Initiatives at VoIP Supply. "Users are migrating from proprietary, hardware based platforms to more open and flexible IP software based platforms. At the same time, the industry is enduring the same challenges in terms of protocol standardization and product interoperability. VoIP Supply is accustomed to operating within a marketplace that is in a constant state of flux. We intend to leverage our experience, operational efficiency and technical know-how with IPCameraSupply.com to help businesses with their surveillance, monitoring and recording needs."
IPCameraSupply.com features products from industry leading manufacturers such as 4XEM, Axis, Bosch, Linksys, Mobotix, Panasonic, Sony, Toshiba, TRENDnet and Vivotek. IPCameraSupply.com will operate out of VoIP Supply's Buffalo office and will be staffed with a dedicated team of sales, customer service and technical support representatives.
For more information on IPCameraSupply.com, please visit http://www.IPCameraSupply.com.
About VoIP Supply:
VoIP Supply, LLC (http://www.voipsupply.com), is the leading Internet retailer of Voice over IP Hardware. In addition to a comprehensive catalog of IP Phones, Telephone Adaptors, VoIP Gateways, and Small Business IP PBX solutions, the company offers technical support, extended warranties, and logistical services for end-to-end customer solutions. VoIP Supply was recognized as a 2007 Inc 500 honoree as one of the fastest growing companies in America. VoIP Supply has previously been recognized as an Entrepreneur/ Pricewaterhouse Coopers HOT 100 company and was named the fastest growing company in Western New York in 2006 by Buffalo's Business First newspaper. For additional information on VoIP Supply, LLC please contact Garrett Smith at 716.250.3408.
###