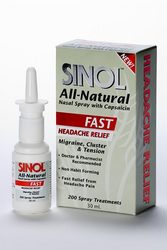 Sinol is a remarkable product and we have had very good success with our headache patients.
Newtown, CT (PRWEB) October 31, 2007
Headache Pain can be debilitating and certainly a handicap for those who get them frequently. Migraines, the most common type of headache is caused when blood vessels surrounding the eyes and forehead begin to spasm. What's needed is an immediate way to relax the muscles in the lining of blood vessels to put this common problem at ease. Capsaicin, an ingredient from the cayenne pepper plant, is a fast-acting natural remedy that relaxes the muscles in the blood vessels and it is this ingredient that is in the "new" Sinol Nasal Spray.
"Conventional headache remedies attempt to block the pain receptors, not the cause of the headache," said Paul Carpenter, CEO of Sinol USA. "Sinol addresses the cause of the headache and we spent a very long time formulating Sinol so it does not have a harsh burning sensation. We combined soothing ingredients such as aloe, eucalyptus and sea salt and this formula works," Carpenter stated. "We have physicians and pharmacists that are using Sinol in private practices all over the country with outstanding results, even the U.S. Olympic Team is using Sinol."
"Sinol is a powerful, fast reliever of headache pain and I refer many people to use Sinol Nasal Spray," stated Dr. Bob Martin who runs a national radio program on health issues.
Dr. Dan Junker from Fort Collins, Colorado also commented that, "Sinol is a remarkable product and we have had very good success with our headache patients."
Susie Montgomery, a Nutrition Supervisor and Buyer for The Mustard Seed Café in Akron Ohio, told Sinol USA Inc., "I wanted to try it on my 13 year old son, who often gets migraine/cluster headaches. So, last weekend he started feeling one coming on and he tried it. About one minute later he says, 'My headache is gone,' and went on his busy way. I am now selling Sinol in our store."
Columbia University College of Physicians & Surgeons in New York City has proven that Intranasal capsaicin for the treatment of headaches is significantly more effective than by digestive means. Another study by Massachusetts General Hospital showed that the ingredient capsaicin did provide relief to many of their patients in their clinical trial
"People are looking for relief from these bad ailments and they love the fact that our product has no harsh side effects, is not addictive and provides headache relief in minutes," Carpenter replied.
###