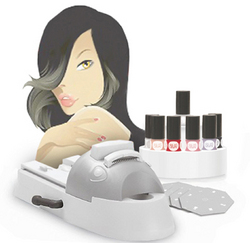 New Bern, NC (PRWEB) October 31, 2007
For girl parties that will keep guests entertained for hours on end, the latest spa party idea is the Nail Art Diva!®, a home, salon-style nail art kit designed to can release their inner divas, and makes for a timely holiday gift idea.
A favorite of girl parties is Nail Art Diva!® whose Diva Basics SmartStart Kit provides a variety of style ideas for attention-getting, salon-style nail art in a matter of minutes. The basic kit offers hundreds of design options -- from hearts, stars, moons, flowers, and snowflakes to sparkles, cats, dogs, bunnies, and butterflies -- using a unique fantasy nail coloring design machine that presses single and multi-color nail designs onto nails, customized to suit a wide range of tastes.
The basic kit includes five art templates capable of producing 29 designs, six specially-formulated color polishes, a bottle of protective topcoat, and an expandable nail polish stand. To get salon-style decorated nails in minutes, simply choose your design, polish color or colors, and decorate nails.
The nail art kit is perfect for girl parties, holiday gift ideas or get-togethers, where friends can help each other make a statement with the latest spa party idea. The fun comes from finding that signature look.
To personalize designs by season or theme and really rev up girl parties, trade, mix or match nail designs, polish colors, decals, or accessories. While seasonal enhancement kits like Autumn Enchantment, Winter Bliss, or Christmas Dazzle open fun possibilities, themed enhancement kits like Glam & Glitter, Declarations of Love, or Dark Seductions (spiders, crosses, lightning bolts, etc.) are even more exotic.
With ten fingernails as artistic canvases, there is plenty of room to experiment with a number of looks at girl parties, and dreaming up new designs can be a fun spa party idea anytime. To remove a design and go for a new look, just apply nail polish remover. Once the perfect look is achieved, apply topcoat and the nail designs are protected for about 7-10 days.
For more info, contact:
Nail Art Diva!® LLC
117 Geneva Road
New Bern, NC 28562
Phone (800) 960-9618
http://www.nailartdiva.com
# # #