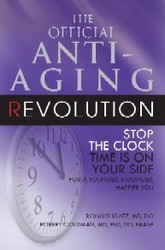 Chicago, IL (PRWEB) October 31, 2007
Spreading like wildfire through schools across the nation, MRSA (methicillin-resistant Staphylococcus aureus) has taken its toll on otherwise healthy children and young adults. In New York City, a Brooklyn seventh-grader died from the MRSA superbug. From Kentucky to New York, California to Connecticut, elementary schools to colleges have seen a spike in the number of MRSA cases, causing complete districts to shutdown and campuses to conduct full-scale building disinfections.
A study by the US Centers for Disease Control and Prevention, published in JAMA (October 17, 2007), found that about 18,700 people die in this country each year from drug-resistant staph infections -- more deaths than the United States sees from AIDS annually. Based on data from 2005, the CDC estimated that about 94,400 patients nationwide suffer an invasive MRSA infection each year.
As a medical concern that may compromise lifespan, the American Academy of Anti-Aging Medicine (A4M; http://www.worldhealth.net) offers its insights on MRSA prevention and protection.
Observes Ronald Klatz, MD, DO, President of the A4M: "MRSA is an opportunistic superbug. The bacteria multiples every 20 minutes and is easily transmitted in certain settings. People need to be aware of the five Cs that are the contributors to MRSA: Crowding, frequent skin-to-skin contact, compromised skin (such as cuts or abrasions), contaminated items and surfaces, and lack of cleanliness." Adds Dr. Klatz: "People should also know that MRSA is not spread through the air, so it cannot be caught from someone's cough or sneeze."
Dr. Klatz explains: "The singlemost effective way to prevent MRSA is to employ good hygiene. Keep your hands clean by washing thoroughly with soap and water or using an alcohol-based hand sanitizer. (Be sure to clean beneath nails as well.) Keep cuts and scrapes clean, and cover with topical bactericidal ointment and a bandage until healed. (If the wound becomes swells, red, painful or otherwise enlarges, seek medical attention immediately.) Avoid contact with other people's wounds or bandages. Avoid sharing personal items such as towels, makeup, and razors."
Remarks Robert Goldman, MD, PhD, DO, FAASP. Chairman of the A4M and President Emeritus of the National Academy of Sports Medicine (NASM): " MRSA is usually transmitted by direct skin-to-skin contact or contact with shared items or surfaces that have come into contact with someone else's infection. At the gym, be sure to put a towel between your skin and the equipment (bike seats, weight benches, etc.)." Adds Dr. Klatz: "Be sure to keep frequently touched surfaces, and surfaces that contact the skin directly (such as office desks, computer keyboards, telephone handsets, etc.) clean, preferably wiping them down with antibacterial wipes before and after each use."
It is important to understand that staphylococcus aureus ("staph") are bacteria commonly found in up to one-third of the healthy US population. Normally, staph does not cause any infection, but when it does, staph can result in minor skin infections (such as pimples and boils) that can be treated without antibiotics. However, staph bacteria also can cause serious infections (such as surgical wound infections, bloodstream infections, and pneumonia). MRSA (methicillin-resistant Staphylococcus aureus) is a type of staph that is resistant to certain antibiotics (specifically, beta-lactams such as methicillin, oxacillin, penicillin and amoxicillin).
The CDC's October 2007 study also found that MRSA caused more than half of all skin infections treated in U.S. emergency rooms reported last year. Comments Dr. Klatz: "MRSA can easily be killed with common bactericidal cleaners such as soaps, hydrogen peroxide, and rubbing alcohol. Again, cleanliness and good hygiene are key."
Of the recent nationwide MRSA outbreak, Dr. Klatz states: "MRSA may be akin to a canary in a coal mine, serving as a marker of the negative impact of antibiotic resistance. Once-rare germs such as MRSA that were medically manageable are now rampantly infecting the healthy population. As a nation, we have overused antibiotics to the point where the pathogens they are aimed at eradicating have outwitted them. At this point, the only dependable mode of prevention is good hygiene and cleanliness."
Adds Dr. Goldman: "Chronic infection is a vastly underestimated cause of disease and disability. The public needs to be mindful that low-grade infections are estimated to potentially reduce the healthy human lifespan by up to 20 years, robbing them of a lifetime of bountiful energy, productivity, and happiness. Bacteria, fungi, viruses, and parasites may well be the singlemost important yet undiscovered cause of premature aging and the chronic degenerative disorders of aging that now plague Americans."
Visit the A4M's website, The World Health Network, at http://www.worldhealth.net , to review additional informational materials about how to prevent and protect against superbugs including MRSA.
Ronald Klatz, MD, DO and Robert Goldman, MD, PhD, DO, FAASP are authors of The Official Anti-Aging Revolution [Basic Health Publications; 2007; softcover; 637 pages]. This new book shares more about how infectious diseases may negatively impact your lifespan. Available November 2007, complete the Interest Form at http://www.a4minfo.net/revolution to receive an advance review copy.
SOURCE: The American Academy of Anti-Aging Medicine (A4M), Chicago, IL
CONTACT: Catherine Cebula
PHONE: (877) 572-0608
FAX: (978) 742-9719
WEBSITES: http://www.worldhealth.net and http://www.a4minfo.net/revolution
###