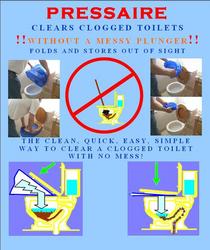 Cardiff, CA (PRWEB) October 31, 2007
PRESSAIRE made a hit at the Kitchen and Bath Industry Show (KBIS) in Las Vegas this year and is sure to become a must have item for many households. One attendee wrote his impressions on the BuilderOnline BLOG and here is a demonstration video showing how PRESSAIRE works. Welcome Home the #1 home improvement and design television show in the northeast produced a segment featuring PRESSAIRE which has been broadcast in selected markets in the Northeast.
PRESSAIRE is a completely new, simple, and easy way to unclog a toilet. This is accomplished by the high volume bellows design that forces air into the toilet bowl, pushing the clog down the drain without contacting the toilet water or clog. PRESSAIRE is constructed of strong yet flexible vinyl and two spring-steel hoops. This unique design allows the PRESSAIRE to be conveniently folded to permit storage in a drawer, under the sink, or behind the toilet and out of view. When needed, simply unfold and PRESSAIRE becomes a high volume bellows to expel the water and clog from the toilet. When finished simply fold and return PRESSAIRE to its storage location.
It's not often that a new product can turn an unpleasant dirty messy chore into a no hassle chore. PRESSAIRE will be appreciated by anyone who does not like using a toilet plunger. For more product information and demonstration videos please visit
pressaire.com.
DonTeCor Enterprises LLC is a new company dedicated to bringing innovative products to the public.
###