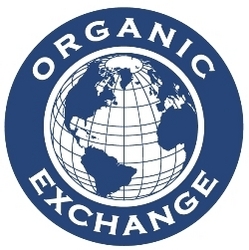 Monterey, CA (PRWEB) October 31, 2007
The global organic cotton apparel, home and personal care products market topped one billion dollars in 2006, with estimates projecting a tripling of that amount by the end of 2008, and a further doubling by 2010, according to results of a forthcoming report from Berkeley, CA-based Organic Exchange (OE). Highlights from the report were released at the organization's 5th Annual Conference and Marketplace in Monterey, CA October 31-November 2, attended by over 330 professionals from 39 countries representing the entire global organic fiber supply chain.
Organic production is based on a system of farming that maintains and replenishes soil fertility without the use of toxic and persistent pesticides and fertilizers or genetically modified seeds.
According to the "Organic Exchange Organic Cotton Market Report 2007," global retail sales for organic cotton products increased 85% to $1.1 billion in 2006, up from $583 million in 2005, and is projected to increase 83% to $1.9 billion by the end of 2007. OE projects the market will increase to $3.5 billion in 2008, $4.5 billion in 2009 and $6.8 billion in 2010. The five companies using the most organic cotton in 2006 were Wal-Mart (USA), Nike (USA), Coop Switzerland, Patagonia (USA) and Otto (Germany). Woolworth's South Africa and C&A (Belgium) have recently introduced large programs and OE expects the companies to make the Top Five list in 2007.
"Companies around the world are looking at their product lines and using organic cotton and other organic fibers to step more lightly on the planet," said LaRhea Pepper, OE executive director. "By supporting organic agriculture, companies eliminate the use of toxic pesticides and fertilizers, reduce the use of water due to soil building practices, and increase the number of beneficial insects and wildlife, all the while protecting the health of farmers and farm workers," she continued.
Reasons for the 2006 organic cotton market growth include strong consumer demand for apparel, home textile and personal care products containing organic fibers as well as expansion of organic cotton programs by companies that have been in the organic market for several years such as Edun (Ireland), Gaiam (USA), Hanna Andersson (USA), H&M (Sweden), howies (UK), Levi Strauss & Co. (USA), Loomstate (USA), Marks & Spencer (UK), Nordstrom (USA), prAna (USA), Under the Canopy (USA) and Woolworth's South Africa. Sales growth in 2007 will be further driven by entrance into the organic cotton market by major brands and retailers including Barney's (USA), C&A (UK), Next (UK), Pottery Barn (USA), Stella McCartney, and Target (USA).
"A fundamental shift in consumer buying patterns in the apparel, home textiles, and personal care markets is happening as significantly more products made from organic cotton and other organic fibers are becoming available to consumers," said Rebecca Calahan Klein, OE program director and primary author of the report.
Klein found that organic cotton apparel has become more fashion-forward, with a wider variety of products across product categories. Apparel represented 85% of total market demand in 2006, with home textiles (bedding and towels) amounting to 10% and personal care products 5%.
Other trends include increased use of other organic fibers in addition to cotton, such as organic wool, linen and even leather; and certification to standards such as the Global Organic Textile Standards (GOTS) and Oeko-Tex processing standards, as well as Fair Trade. In addition, companies expanded use of the Organic Exchange Online Tracking Service, enabling companies and consumers alike to track the fiber in a product back to a particular field or animal.
The report's data describing an increased organic cotton marketplace reflects the increasing organic fiber production data reported in the organization's September 2007 "Organic Exchange Organic Farm and Fiber Report." That report showed the amount of organic cotton produced globally increased 53 percent from 2005/06 to 2006/07. According to the report, 57,931 metric tons (MT), or 265,517 bales, were produced in 24 countries on all arable continents. The top ten organic cotton producing countries were (in order by rank): Turkey, India, China, Syria, Peru, the United States, Uganda, Tanzania, Israel, and Pakistan. Nearly half (44.9%) of the organic cotton was grown in the Middle East (Turkey, Syria and Israel), while approximately one-third (32.9%) of organic cotton was grown in Southeast Asia (India and Pakistan).
OE also announced two major partnerships at the conference. First, OE, C&A Europe, and Shell Foundation have entered into a multi-year partnership to support sustainable farm and community development in India. Second, OE, Woolworths South Africa (WWSA), Cotton South Africa and the country's Agricultural Research Council (ARC), with the financial support of ComMark Trust, will undertake pilot projects with existing WWSA suppliers and small- to large-scale cotton farmers. This will lead to the country's first commercial scale organic cotton fiber production and vertical processing operations.
Founded in 2002, Organic Exchange facilitates expansion of the global organic cotton fiber supply by working closely with farmers, leading brands and retailers and their business partners to develop organic cotton programs. OE has hosted numerous organic cotton conference and trainings in supply chain centers around the world, including China, India, South Africa, Thailand, Turkey, the United Kingdom and the United States. Trainings in 2008 will be held in India (January), Brazil (April) and Uganda (June).
Funding for the report was provided by ICCO, Martin-Fabert Foundation, Shell Foundation and Organic Exchange member companies.
###