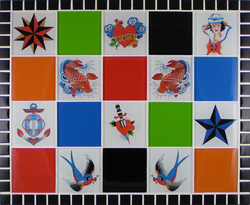 Scotts Valley, CA (PRWEB) November 5, 2007
A labor of love almost two years in the making, modwalls commissioned local California tattoo artists, Nate Abbott and Julio Avila to create original works of art inspired by retro tattoo designs for this unique line called "Tile Tattoos". The result is ten different designs including the traditional Sparrow, Koi, Anchor, Mom heart, Dagger Heart, Sailor Girl and Compass Rose. Available for purchase online at: http://www.modwalls.com/index.asp?PageAction=VIEWCATS&Category=44
Tile Tattoos can be installed as a focal point or accent in a field of ceramic or glass tile on shower walls, spas, swimming pools, kitchen backsplashes, fireplace surrounds, table tops...or anywhere you want to bring fun and color into your environment. Imagine them in a hip and modern hotel or restaurant setting, or in a cool pool, spa, outdoor shower or kids bathroom. There are so many possibilities for these unique and artistic tiles and their coordinating bright field tile colors.
Modwalls, "Architectural Surfaces That Inspire", is a division of Sunset Mountains, Inc.
We've been selling unique tile products online since 2003. Modwalls brands include Brio Vitreous glass tile, Lush glass tile, ModRocks pebble mosaics, and ModDotz glazed porcelain penny round tile. Modwalls products are available online to both retail and trade customers at http://www.modwalls.com. Samples are available. Free Ground Shipping in the Continental US on all orders over $200. Discounted shipping to Alaska, Hawaii, Puerto Rico and Canada.
###