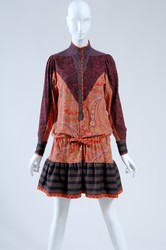 (Vocus) November 7, 2007
Exoticism, the latest exhibition in the popular Fashion and Textile History Gallery of The Museum at FIT, presents fashion inspired by Asia, Africa, the Middle East, and Latin America. From November 27, 2007, through May 7, 2008, visitors will have an opportunity to experience how exoticism in fashion has changed over the past 250 years – from the era of colonialism to the rise of globalization and multiculturalism.
More than 70 looks are featured, many by Parisian couturiers such as Paul Poiret and Yves Saint Laurent. Additional exhibition highlights include fashions by designers from Brazil, China, Malaysia, Mali, and South Africa.
The exhibition opens with a display of magnificent Indian saris from the 1940s, worn by Princess Niloufer of Hyderabad. Also on display in the introductory gallery are a Chinese dragon robe, African kuba cloth, a wedding kimono from the 1920s, and other beautiful garments and textiles from around the world.
The next three galleries are organized chronologically from the 18th century to the present. As foreign luxury goods entered the Western market, European fashion increasingly featured "exotic" techniques and iconography. Batik, calico, and madras, Chinese dragons, Kashmir shawls, and kimono sleeves came into the Western fashion vocabulary. A Parisian mantle from the 1880s, for example, shows the strong influence of the vogue for japonisme, while another dress from the same period is actually made from kimono fabric. Not only surface decoration, but also methods of construction changed under the influence of non-Western styles. A 1920s frock by the Callot Sisters, an extraordinary Mainbocher evening gown from the 1940s, and a hot pink Bonnie Cashin dress from the 1960s all show the influence of the sari on garment construction.
In the second half of the 20th century, Yves Saint Laurent was especially influential in popularizing exoticism in fashion, and a dress from his famous 1967 African collection is on view, along with other examples inspired by China and India. Increasingly, designers from around the world have contributed to the multiculturalism of contemporary fashion.
Kenzo (also featured in the exhibition) was a pioneering figure, mixing design elements from his native Japan with elements from other cultures such as India.
Exoticism today implies a cross-cultural exchange of people and ideas. In Paris, designers such as Dries Van Noten are known for their multicultural styles, while New York is full of foreign-born designers, such as Yeohlee, who draws on her Chinese/Malaysian heritage for inspiration. But designers and manufacturers are emerging everywhere from Johannesburg to New Delhi. This exhibition features African fashions from Xuly Bet (designed by Lamine Koyaté of Mali) and Stoned Cherry (by Nkhensani Manganyi Nkosi of South Africa), Brazilian fashion by Alexander Herschcovitz, and Japanese fashion by Yoshiki Hishinuma.
Exoticism was organized by Tamsen Schwartzman, associate research curator, and Fred Dennis, associate curator of costume, together with Molly Sorkin, assistant curator of costume; Clare Sauro, assistant curator of accessories; Harumi Hotta, design research specialist; and Lynn Weidner, assistant collections manager.
The Museum at FIT is located on the southwest corner of Seventh Avenue at 27th Street. Exhibition hours are Tuesday through Friday, noon to 8 pm; Saturday 10 am to 5pm; closed Sundays, Mondays, and legal holidays. Admission is free. For museum information call (212) 217-4558 or go to http://www.fitnyc.edu/museum.
For further press information, contact the Office of Communications and External Relations at (212) 217-4700 or press@fitnyc.edu. Visuals are available on request.
Contacts:
Loretta Lawrence Keane
VP for Advancement and External Relations
Brenda Pérez
Director of Media Relations
(212) 217-4700
###