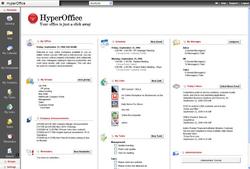 HyperOffice makes it possible for any veteran who owns a business to manage and monitor that business
Washington, D.C. (PRWEB) November 6, 2007
The Veterans Corporation is deploying webware to help entrepreneurs manage and monitor their businesses while on active duty in the military.
The web-based software is also available to veterans who start or grow businesses after they are discharged from the Air Force, Army, Marines, Navy, National Guard and Reserve.
Created by Congress under the Veterans Entrepreneurship and Small Business Development Act of 1999, the National Veterans Business Development Corporation, doing business as The Veterans Corporation , today added HyperOffice to "Deploy Proof Your Business," http://www.deployproof.com .
Dedicated to helping veterans and anyone serving in the active military suspend or sustain the business they own during an extended absence, Deploy Proof meshes planning tools, inventory and employee guides, financial and legal expertise, with a range of other services and resources.
HyperOffice is award-winning webware that makes it easier for owners, employees, clients, partners and suppliers of growing businesses to collaborate, communicate, plan projects, share and edit documents, schedule meetings, and manage information, anytime, from any Internet connection.
"HyperOffice is the office," said LaShone Garth, chief executive officer of Atlanta-based The Virtual Business Group, http://www.thevirtualbusinessgroup.com. "When I went to Iraq in October 2006, I left someone else in charge who let the subscription to HyperOffice lapse. When I got back in April 2007, HyperOffice was the first thing I did to restart the company. Today, it's how 50 contract employees who transcribe audiotapes share files and calendars, upload and receive work, and email courts, doctors, attorneys and other clients from across the country and Canada.."
"HyperOffice makes it possible for any veteran who owns a business to manage and monitor that business," said Walt Blackwell, president and chief executive officer of The Veterans Corp. "This is a remarkable convergence of technology in support of business owners who do not have the option to pass a business on to someone else, and who would otherwise be forced to suspend their business for an unknown length of time, or shut it down entirely. When I was deployed, it used to be standing in line to use a phone. Now, it's getting online, any time, from any place."
As webware, sometimes called software as a service, HyperOffice delivers to growing organizations today the power and productivity of collaboration software that only the largest company with a mammoth IT budget could otherwise afford -- business-class email without spam and viruses; document management with online storage, versioning, user rights and workflow; contact management, scheduling, task management, discussion groups, security, backup, portal customization, customer portals, extranets and intranets, time and expense tracking, and more.
About HyperOffice
HyperOffice Inc. (http://www.hyperoffice.com) is a leading provider of Enterprise Collaboration Software and tools for growing organizations. The company offers a simple and affordable suite of Intranet and Extranet software that provide new and growing businesses essential tools to collaborate, communicate, and manage information from any browser running on any platform. First launched in 1998, Online Business Collaboration Solutions provider HyperOffice is used around the world by a growing number of innovative businesses.
About The Veterans Corporation
The National Veterans Business Development Corporation (http://www.veteranscorp.org) is a Federally-chartered 501(c)(3) organization charged with creating and enhancing entrepreneurial business opportunities for Veterans, including Service-Disabled Veterans. TVC provides Veterans with the tools and resources they need to be successful in business, including access to capital, bonding and entrepreneurial education.
# # #