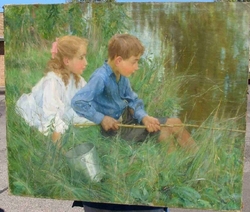 We had 14 phone bidders from all over the country
Beloit, WI (PRWEB) November 7, 2007
An original signed painting by American artist Francis Coates Jones sold at auction for $153,000 on October 31, according to Richard Ranft, president of United Country Beloit Auction and Realty, Inc.
"We had 14 phone bidders from all over the country," related Ranft, "along with a number of on-site bidders in the crowd. There was a lot of excitement about this piece. The bidding began at $5,000, and after a certain point it was down to a bidding war amongst our phone bidders."
The painting - "Boy and Girl Fishing" - is a 30x36 inch oil on canvas. Ranft said that the gavel fell on the final bid of $153,000 from a collector in New York. After buyer's fees, the total price of the painting was $168,300.
Born in Baltimore in 1857, Jones is a well-known artist with works hanging in a number of museums, including the Metropolitan Museum of Art in New York City. He died in 1932.
In addition to the Jones painting, a number of other art pieces were sold at the auction, including: three signed oil paintings by Jackson Pollock; an original Alexander Calder untitled lithograph signed and dated 1969; several etchings by Salvador Dali; an oil on canvas by Muninger; an original lithograph by Edwardo Manet entitled 'Le Chat et Les Fleurs'; an original untitled lithograph by Paul Cezanne; and a serigraph by Roy Lichtenstein titled 'Still Life with Crystal Bowl."
For more information, call United Country Beloit Auction and Realty, Inc. at (608) 364-1965 or visit http://www.beloitauction.com.
Published by ASMarketingCenter.com a division of http://www.auctionservices.com and the http://www.nationalauctionlist.com.
Contact Information:
Richard Ranft, President
United Country Beloit Auction and Realty, Inc.
534 W. Grand Ave.
Beloit, WI 53511
Phone: (608) 364-1965
Fax: (608) 364-1117
Toll Free: 1-877-364-1965
###