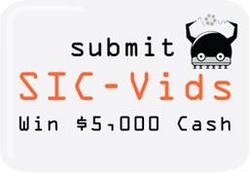 We are really excited to see the types of videos people come up with. Our goal with this contest was to give people as much creative freedom as possible when developing their videos. We want everyone to have fun with this
La Jolla, CA (PRWEB) November 9, 2007
ScholarPoint Financial Inc., a leader in the student loan consolidation industry, announces the launch of their "SIC-Vids" YouTube video contest in which one participant will win $5,000 in cash.
The goal of the contest is to promote ScholarPoint's 'Simple, Instant, Complete' motto that describes their unique process of student loan consolidation.
To enter, participants are challenged to create a 60 second video that embodies at least 1 of the 3 words of the ScholarPoint motto: Simple. Instant. Complete. The terms can be represented visually with text or graphics or be spoken or even sung.
Contestants will then upload the video to ScholarPoint's YouTube contest group located at http://www.youtube.com/group/sicvids between November 5th and December 5th. The 10 videos with the most positive comments by January 5th, 2008 will then move on to the finals round where the winning video will be chosen by the ScholarPoint judging team.
"We are really excited to see the types of videos people come up with. Our goal with this contest was to give people as much creative freedom as possible when developing their videos. We want everyone to have fun with this," says ScholarPoint CEO Chris Studer.
Though videos must be entered into the contest by December 5th, contestants have until January 5th 2008 to promote their videos to friends on Facebook, MySpace, blogs, and by email in order to rack up the most positive comments and move into the final judging round.
The winner of the YouTube video contest will be selected on January 25th, 2008 and will be mailed a check in the amount of $5,000. Full details about the ScholarPoint SIC-Vids video contest can be found at http://www.scholarpoint.com/sicvids/.
About ScholarPoint: ScholarPoint Financial, Inc. is a national online consumer lending company specializing in student loans and offering a full range of innovative education finance solutions. Loan options for students and their families include PLUS, Stafford, Consolidation and Private Loans. ScholarPoint combines industry-leading borrower benefits, best-in-class service and innovative technology. Unlike many other traditional loan sites, ScholarPoint's technology platform was designed exclusively for its website, integrating the entire process for an online experience that is simple, instant, and complete.
###