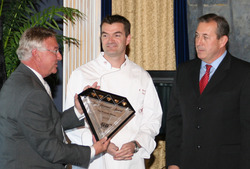 The Penrose Room has long been known as a premier dining destination in Colorado and this recognition from AAA cements that reputation of culinary excellence
Colorado Springs, CO (Vocus) November 9, 2007
The Penrose Room, at the historic BROADMOOR, has become Colorado's first dining establishment to achieve one of the restaurant industry's top distinctions: the AAA Five-Diamond Award. The Penrose Room in Colorado Springs joins an exclusive club of 46 restaurants chosen from more than 60,000 AAA-rated restaurants and hotels across the United States, Canada, Mexico, and the Caribbean.
"Achieving the AAA Five-Diamond Award is the top distinction earned in the restaurant industry," says Tony DeNovellis, President and CEO of AAA Colorado. "We congratulate The Penrose Room for becoming the first Colorado restaurant to earn this award, which signifies the highest restaurant experience possible."
To become AAA approved and diamond-rated, hotels and restaurants undergo a thorough inspection by one of AAA's 65 full-time, professional evaluators. Five-Diamond establishments complete an extensive review that includes a series of inspections and final committee review results will be listed in the 2008 AAA TourBook guides, in print and online at http://www.aaa.com/diamonds.
"The Penrose Room has long been known as a premier dining destination in Colorado and this recognition from AAA cements that reputation of culinary excellence," says C.W. Craig Reed, Director of Food & Beverage at The BROADMOOR. "We are thrilled to receive this award, and look forward to celebrating with culinary enthusiasts from Colorado and visitors from around the world."
The Penrose Room offers an experience unlike any other from its unique vantage point atop The BROADMOOR's South Tower. With classic fine dining, an extensive European wine list and live entertainment and dancing in a stylish atmosphere, dinner at The Penrose Room is truly an event. General Manager Duane Thompson orchestrates the dining room and service masterfully, while Executive Chef Bertrand Bouquin exquisitely prepares the cuisine. Both infuse classic hospitality and contemporary vitality into every detail.
Executive Chef Bertrand Bouquin creates The Penrose Room's menu by blending his solid foundation of classical cooking with artful plating. Notable dishes include Halibut Slowly Cooked in Black Olive Oil, Monkfish and Lobster Tail Wrapped in Country Bacon, and Roasted Loin of Colorado Lamb and Shoulder Confit. The dessert menu, by Executive Restaurant Pastry Chef Remy Fünfrock, is equally impressive and includes the Penrose Chocolate Duo; Pure Caraibe Chocolate Moelleux, Chocolate Vanilla Cream and Hazelnut Tea Tuile with Darjeeling Milk Chocolate, and the Red Berries and Red Wine Consommé with Mint Parfait, Cocoa, and Black Peppercorn Tuile. The wine list, under Wine Director Tim Baldwin, is formidable at 450 bottles, but keeps a tight focus on Old World appellations, among which are found both time-honored classics and emerging stars. The list is designed to accommodate those at the threshold of discovery, as well as seasoned connoisseurs, and offers 30 wines by the glass.
Enhancing The Penrose Room's romantic charm is a glass-enclosed 24-seat semi-private dining room, affording guests a breathtaking mountain view. Other amenities include a demonstration kitchen that features a 16-seat Chef's Table, which offers guests the opportunity to interact with the chef while he cooks. Guests also enjoy nightly entertainment by the Penrose Room Trio featuring premier vocalist Lila Mori.
The BROADMOOR, home to The Penrose Room, has also received the prestigious AAA Five-Diamond distinction for the 32nd consecutive year and is one of only three hotels in the nation that has maintained the rating since the Diamond ratings were first applied to hotels.
For more information on The BROADMOOR, please call 800-634-7711 or visit http://www.broadmoor.com.
For more information:
The BROADMOOR
Allison Scott, Director of Communications
Ivy Canady, Public Relations Manager
Ph: 719.577.5718
FAX: 719.577.5779
ascott @ broadmoor.com
icanady @ broadmoor.com
Wagstaff Worldwide
Jessica Rodriguez
Trisha Cole
Ph: 323.871.1151
###