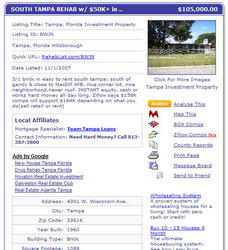 There isn't a doubt in my mind that eRealAnalyzer is going to be a very huge asset for investors who use the RehabList.com site on a regular basis.
Tampa, FL (PRWEB) November 13, 2007
Real estate investing just got a little easier. The popular real estate investment site RehabList.com has added a new feature to their already immense arsenal of tools for investors. eRealAnalyzer offers the real estate industry's first browser-based, integrated financial analysis solution, which enables prospective buyers to visualize and compare alternative property ownership financial metrics with a single click.
To help different types of buyers with different financial needs and purchase criteria perform financial analysis, eRealAnalyzer provides an intuitive, graphical interface that enables buyers, sellers and real estate professionals to easily combine different ownership scenarios, such as "live in," "rent," or "flip," with assumptions for down payment, interest rate, purchase price and many other key variables.
RehabList.com is a leading source of undervalued and foreclosure property listings, it is also a major source of advertising for such properties. The site offers stellar tools for investors, from free learning resources to networking opportunities in the Flipping Homes Forum. As all great things do, RehabList.com has grown to include yet another fantastic tool, eRealAnalyzer.
In an effort to furnish the most helpful information about every piece of property to users, the analyzer can be used on every listing in Rehablist.com's massive and rapidly growing database. Investors can analyze properties and find the perfect deal by signing up as a free user on Rehablist.com and then clicking the orange analyze button found on every listing.
Mike Collins, founder of RehabList.com, says, "Our buyers are very concerned about ensuring their investment properties will deliver a significant return. Some buyers are more financially savvy than others. To empower all of our users, we wanted to provide them with a tool that dramatically simplified their analytical process. eRealInvestor's technology accomplishes this."
The eRealAnalyzer tool will be useful for investors with varying levels of experience in the real estate investment industry. "We are very excited to announce RehabList's offering of eRealAnalyzer to our users" says Collins. "The ability to offer usually complex financial metrics within different scenarios will enable our users to be better informed and hopefully save them time when making property investment decisions."
eRealAnalyzer will help investors navigate the challenge of determining a property's affordability, anticipated pre- and post-tax cash flows, returns, and future value under different assumptions. Simply put, this awesome tool will make crunching the numbers to determine what properties make the most financial sense as easy as a click of the mouse and RehabList.com is looking forward to the feedback from users regarding this new feature.
"There isn't a doubt in my mind that eRealAnalyzer is going to be a very huge asset for investors who use the RehabList.com site on a regular basis. " says Collins. "eRealAnalyzer is one of the most useful applications I have seen in the real estate investment business, and we're confident our users will see value in it."
###