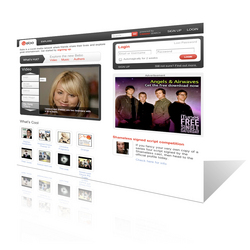 Bebo's Open Media dovetails the CBS strategy of open, multi-partner non-exclusive syndication perfectly
New York & London (PRWEB) November 13, 2007
Bebo, the global social network, today unveiled Open Media, a radical new vision for social media and entertainment that gives media companies free and open access to Bebo's 40 million users worldwide and the Bebo community free and open access to thousands of hours of premium entertainment content from some of the world's best known media brands.
Launch partners include CBS, MTV Networks, ESPN, the BBC, Channel Four, ITN, Yahoo! and BSkyB, as well as emerging media companies like Music Nation, Next New Networks, Crackle, Ustream, Last.fm and JibJab.
Launched at simultaneous events in New York and London, Bebo's Open Media ushers in a new, legitimate way for people to explore and experience content on the Internet, and the way media owners promote, distribute and monetize their programming.
Open Media allows users to store and curate within their personal profiles their favorite music and video content; and virally distribute that content throughout their 'friends network' and the wider Bebo community.
For media companies, Bebo's flexible architecture gives them access to a growing community of 40 million members, many of whom fall into the elusive 13-24 year old target audience. Uniquely, partners will not be charged for access to the platform and are able to distribute their content using their own video players, which can carry their own advertising and allow them to retain 100% of the related ad revenues.
For Bebo, the addition of thousands of hours of short and long form premium entertainment content from major global entertainment brands and emerging media companies will increase the audience's engagement with the site and thus the value of Bebo's advertising and brand associations.
According to Joanna Shields, President, Bebo, Open Media represents a significant departure from the focus of other social networks and offers a breakthrough business model for the entertainment industry.
"The spectrum of social networking is evolving beyond utilities and applications. Bebo is a 'Social Media Network' where culture and content come together and people use media and entertainment as a means of self-expression.
Every media company is looking for better ways to deliver their content online. By opening our platform to media owners, who gain free access to our community while retaining control over their brand, their content and their revenues, we are creating valuable new inventory for advertisers and a new business model for the entire media industry.
As of today, Bebo becomes the first social network to open its doors to all media companies, bringing the richness of the media and entertainment world to a fast-growing community of 40M users."
Bebo Open Media Revolutionizes the Social Media Experience
Open Media creates an entirely new user experience for Bebo members with the introduction of the 'Personal Video Profile'. A multi-dimensional user experience allows members to curate their favorite videos within their Bebo profile, which is customizable to reflect personal tastes as well as the interests of friends.
Open Media offers users access to a lineup of high quality programs from professional broadcasters, independent producers and other rights owners, enhancing Bebo's already-rich archive of user-generated content.
"Our audiences increasingly expect greater access to their favorite comedy, music and pop-culture programming," said Greg Clayman, Executive Vice President of Digital Distribution for MTV Networks. "Bebo's new Open Media platform allows us to distribute our content and our marketing partners' messages in an environment where consumers can quickly and easily share it with others and forge even deeper communities around the programming they love."
Open Media also makes it easier for Bebo users to find and share new forms of entertainment with friends. Open Media features an intelligent content discovery mechanism that matches users with people who share the same entertainment tastes as they do. Additionally, users who choose a media channel, a program or a band as a 'favorite' can automatically receive online and mobile alerts when any new content (e.g. video clips, blog entries, photos, etc) is made available.
Combined with Bebo's already powerful "viral" recommendation tools, Open Media creates powerful connections between content and the Bebo community.
Bebo Open Media - a Breakthrough Business Model for Media Companies
Open Media takes advantage of the exploding popularity of rich media content online as well as the movement of advertising towards brand association with online content.
Bebo users already spend an average of 40 minutes* on the site each day, much of it interacting with media, including user-generated content.
The addition of thousands of hours of premium entertainment content from major global entertainment brands and emerging media companies will increase the audience's engagement with the site.
Additionally, Bebo's flexible architecture enables media companies to join Open Media on their own, without protracted licensing negotiations. Uniquely, partners are able to distribute their content using their own video player which can carry their own advertising, while retaining 100% of the ad revenues. Alternatively, Bebo will provide a solution to those partners without their own advertising sales or player technology.
Bebo's social networking capabilities allow media companies to more rapidly build audience and drive consumption. Users can automatically alert their Bebo friends to their latest media preferences, turbo-charging word-of-mouth recommendations - always a central part of media discovery.
Bebo also introduces 'Channel Profiles', a new type of profile designed for media companies, giving partners control over how their content is delivered and the community that can be built around it. Channel Profiles offer areas for user comments, reviews and forums, show blogs, areas for promotional assets such as photos, cross-promotion of other shows from media partners, and much more.
"Bebo's Open Media dovetails the CBS strategy of open, multi-partner non-exclusive syndication perfectly," said Quincy Smith, President, CBS Interactive. "At a time when users can access content on any screen, anywhere and at the time of their choosing, CBS is committed to bringing its content directly to users through platforms such as Bebo's. The risk of not being involved is to have 40 million Bebo members curating other content on their profiles."
Bebo's global launch partners include:
-- BBC
-- BSkyB
-- CBS
-- Channel 4
-- Crackle
-- Endemol
-- ESPN
-- FabChannel
-- ITN
-- JibJab
-- Kontraband
-- Last.fm
-- Ministry of Sound
-- MTV Networks
-- Music Nation
-- Next New Networks
-- Premium TV
-- SumoTV
-- Turner Broadcasting Systems
-- Ustream
-- VBS
-- Yahoo!
For further information contact:
UK: Andrew Sholl or Claire Thom
Portland
+44 (0)20 7404 5344
bebo(at)portlandpr.co.uk
US: Julia Konstantinovsky,
Civilia Public Relations
(415) 439-4250
julia(at)civiliapr.com
About Bebo
Bebo is a global social networking website which aims to bring together like minded individuals who are creative, expressive and socially aware. Bebo has a membership of more than 40 million world-wide and ranks as the world's most engaging Social Media Network with users spending an average of 40 minutes per usage day on the site*.
Bebo won the People's Choice award in the Social Networking category at the 2006 Webby awards and was named as the number one search term in the Year-End Google Zeitgeist 2006.
Bebo was founded in 2005 by Michael and Xochi Birch.
*Source: comScore World Metrix
###