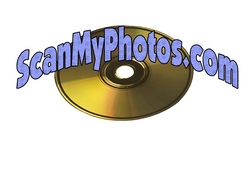 We make it super-easy to get your photos scanned
Irvine, CA (PRWEB) November 14, 2007
ScanMyPhotos.com - the smart way to preserve and share pictures is profiled in Family Tree Magazine.
If the loss of a relative isn't heartbreaking enough, when the family gathers together to reminisce and share those special photo memories, they often stumble upon more anxiety. As they glimpse upon the condition of those favorite, overlooked pictures - stored away in shoeboxes - their memories are often diminished. Without digitally protecting all the family snapshots, photographs can be lost forever.
Family Tree Magazine's (Jan, 2008) "Toolkit" section shares ways to speed up the scanning process. The "Quick Pics" article Click here to read, written by Rick Crume, profiles several photo scanning services, including ScanMyPhotos.com and its inexpensive and super-fast same-day, fill-the-box service to preserve photos before they fade away and get lost. Family Tree Magazine is America's leading family history genealogy magazine and along with its website (FamilyTreeMagazine.com) helps discover, preserve and celebrate the past.
Super-fast photo scanning was created by ScanMyPhotos.com, a division of 30 Minute Photos Etc (founded in 1990). According to company president & CEO, Mitch Goldstone, "people often do not have the patience to scan their photos and they tend to need their digitized pictures right away. So far, we have scanned more than 3,400,000 pictures."
While 1,500 snapshots is an average order size at ScanMyPhotos.com, it takes their super-fast KODAK i660 scanners just minutes to complete each order for its nationwide ecommerce and walk-in retail business.
The second most common question at ScanMyPhotos.com concerns turn-around and whether they send customers' pictures abroad? "Because everything is instant and mailed back the same day, our first answer addresses both concerns," said Goldstone.
But, the most popular inquiry is whether ScanMyPhotos.com really does have such affordable photo scan to DVD prices?
What Is the Cost to Scan Photos?
Option #1: Order prepaid fill-the-box scanning from ScanMyPhotos.com and pay just $99.95 to have more than 1,600+ 4x6" photos scanned. Your prepaid box is mailed to you the same day the order is placed. Everything is included, including the custom DVD data disc and all shipping and handling. This most economical service means that an average cost per scan is about 2.5 cents, and when you buy two boxes, you get the 3rd free -- thus, pay just $199.90 to have more than 5,500 pictures scanned and returned the same day. Many extra services are available, including custom photo enhancement, photo memory books, volume discounts for multiple extra DVD data discs (low as $2.49 each).
Option #2: Mail your own box and pay just $49.95 to have up to 1,000 photos scanned, plus shipping and handling. All information and a menu of extra products are detailed on the downloadable order form. Customers should first review the online instructions to learn how easily it is to prepare their photos, but note that no copyrighted pictures are permitted.
Super-fast Photo Scanning Interesting Facts:

While 35mm mounted slides and 35mm negatives are separately priced and individually scanned at 2000 dpi and include custom color and density correction, and free upright rotation, it does also include KODAK Digital Ice enhancements to adjust for dust and scratches.
-The most popular ScanMyPhotos.com service is photo scanning, where pictures are scanned at 300 dpi, so a 4x6" print is digitized at about a large 1.0 -- 1.5 MB compressed file which is ideal for ordering Kodak-quality reprints from their website, sharing, archiving and using as slideshow presentations.
-The average photo scanning service takes just minutes to complete. However, nothing is average at ScanMyPhotos.com, explains Goldstone, "every single photo memory is special and unique. We look at each snapshot, even those old Polaroid pictures as being extraordinary, and that is why bulk-scanning is so important.
How to Scan Photos?
It is as easy as visiting ScanMyPhotos.com. Within minutes, you experience what makes them special. "We make it super-easy to get your photos scanned," said Goldstone, who regularly addresses key photo imaging industry conferences and is a well-known leader in the photo industry.
Even KODAK has recognized the importance of Goldstone and his partner, Carl Berman's company and has a lengthy customer profile on their Kodak.com website.
What happened during the Family Tree Magazine interview is identical to all the others, explained Goldstone, who described his super-fast scanning and related photo imaging services as something magical. "Ever since 1990, our company has been all about instant turn-around. Consumers want their orders back while they wait, and that is also our model today; for retail customers they literally drop off their photos and within minutes, their entire order is completed. People get so excited and think of us more like 'The Wizard of Oz.' While we make it seem easy, there is a great deal of care and a 17-year history of professionalism that accompanies each order - whether it is just a few hundred scans or our largest single order of 22,000 pictures scanned to DVD which took under five-hours to complete."
ScanMyPhotos.com explained that even though they were featured on page one of "Marketplace" in The Wall Street Journal (Jan 31) and scores of other profiles and blogger referrals, Family Tree Magazine is among their greatest recognition yet. The magazine and its online site are targeted directly to its core customers -- readers passionate about preserving their memories.
The scanning service is preparing to add several new features, including long-term secured photo archiving and a range of new photo imaging products that are all provided though 30 Minute Photos Etc. - its pro lab retail operation based in Irvine, Calif. All photo scan orders are digitally preserved and currently archived by ScanMyPhotos.com for thirty-days without any additional charge.
ScanMyPhotos.com has a treasured history of trust; the company's founders are well-known photo imaging industry leaders. The ScanMyPhotos.com website provides a detailed ordering menu for additional services, including Photo Memory Books, Kodak-quality reprints and enlargements, photo restorations, photo sharing and extra digital DVDs. 30 Minute Photos Etc. operates an ecommerce online photo service and retail photo center, based in Irvine, Calif. The company is also lead plaintiff in the merchant interchange antitrust class action litigation against Visa, MasterCard and leading member banks, including Bank of America, JPMorgan Chase, Citigroup, Wachovia and others. A daily website with news and commentary updates is co-edited by Carl Berman and Mitch Goldstone. See: WayTooHigh.com.
More info, visit: ScanMyPhotos.com. Contact: Mitch Goldstone, President & CEO, ScanMyPhotos.com, 92 Corporate Park Plaza, Irvine, CA 92606, Ph: 949-474-7654, Email: info (at) ScanMyPhotos.com. (All company names and products mentioned above are trademarked by their respective companies; Family Tree Magazine is copyrighted by F+W Publications. ScanMyPhotos.com is a registered service mark).
# # #