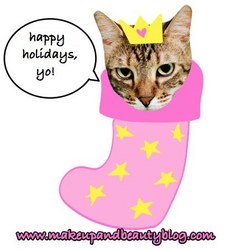 It's a serious entry into the fragrance market
San Francisco (PRWEB) November 15, 2007
Paris Hilton hits the Bay Area this weekend to promote her newest fragrance, CAN CAN Paris Hilton, and Makeup and Beauty Blog will be there to get the diva's dish on her latest perfume.
Released last month, CAN CAN is scoring big with professional beauty bloggers like Karen Monterichard of Makeup and Beauty Blog. Hilton's popularity has helped the fragrance garner attention, but the scent is turning heads on its own. On blogs that review cosmetics, perfume and other beauty products, CAN CAN is a hit. "It's a youthful scent," said Monterichard, editor of Makeup and Beauty Blog, "really feminine, not overwhelmingly sweet like some of the perfumes out there today. You can be in your early 30s like me and still pull it off."
Hilton is not the first celebrity to release a perfume, but as more celebrities have entered the fragrance market, the scents have matured, evolving from candy- and fruit-themed body sprays lining drugstore aisles, to more subtle, complex fragrances bound for boutiques and upscale department stores.
Celebrity perfumes are typically geared to teens and young women, but CAN CAN should have broader appeal. "It's a serious entry into the fragrance market," said Monterichard. As with any fragrance line that hopes to be taken seriously, CAN CAN's packaging looks the part, with the bottle having a long glass neck and subtle pink accents. It's curvy and feminine but not over the top.
Monterichard will share the Paris Hilton interview with readers of Makeup and Beauty Blog next week. "I'm going to get the dish on what her favorite makeup and beauty products are and whether or not she reads beauty blogs. I'd like to ask her what her vision is in terms of where she's going to take her beauty product lines."
With the holiday season upon us, cosmetics companies like MAC, Estee Lauder and Tarte Cosmetics are releasing their holiday gift sets. All month long, Makeup and Beauty Blog is running a series of reviews on the best palettes, limited edition makeup items and perfumes perfect for holiday wish lists.
About Makeup and Beauty Blog:
Karen Monterichard started Makeup and Beauty Blog to share her obsession with makeup. The site features makeup reviews , beauty product tips and news from your friendly neighborhood beauty addict. For more information, please visit Makeupandbeautyblog.com .
###