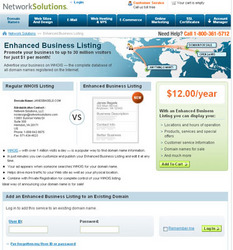 Herndon, VA (PRWEB) November 26, 2007
Affordable advertising is something all business owners dream of but rarely find. For Network Solutions® customers, affordable advertising is now a reality. Network Solutions Enhanced Business Listings allow customers to advertise company information, news and events via their WHOIS listing. Every business that has a domain name registration with Network Solutions can utilize this affordable online advertising service.
By advertising in WHOIS, the authoritative database of record for all domain names, companies can add essential business information to their WHOIS search results page including company description, business contact information, references, hours of operation, products and services offered, and current promotions. Businesses can even advertise whether their domain name is for sale in their WHOIS search results. Because WHOIS receives over 1 million queries per day, this additional advertising exposure will help drive more traffic to Web sites and businesses.
Jeff Grosman, Senior Vice President of Product Marketing and Management with Network Solutions explains, "The new Enhanced Business Listings offering is an affordable way for Network Solutions customers to take advantage of their WHOIS database listing. Businesses can use this space to promote their company's core value proposition versus simply listing a standard administrative contact, which has no marketing value. Thanks to this unique new service, every company in the Network Solutions base -- no matter the size -- can affordably leverage the hundreds of millions of annual visits that are made to the WHOIS database."
With Enhanced Business Listings, business owners also have control over publishing the information they wish to make public. This new service can complement the Private Registration service which enables business owners to protect the information they do not want released (their administrative address, for example) while still advertising their store locations and other sales-related details.
Customers can make unlimited changes to their Enhanced Business Listing and publish them immediately through Account Manager. Easy to use with customizable categories, businesses can update their message to reflect seasonal promotions or other appropriate news and information. Customers will be able to purchase Enhanced Business Listings for an affordable fee of $12 per year per domain.
For more information about Network Solutions Enhanced Business Listings or other online services, please visit NetworkSolutions.com.
About Network Solutions:
A leading provider of web solutions, Network Solutions, offers a comprehensive line of products for businesses, including affordable website design services, web marketing, search engine optimization, hosting, domain name registration, and other Internet solutions. As an industry pioneer and over 28 years in the web services industry, Network Solutions is committed to helping businesses succeed with affordable and simple one-stop shopping solutions.
###