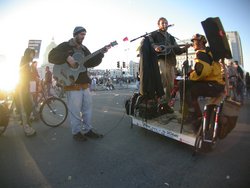 We're doing it ourselves. This is human power. This is the Pleasant Revolution….
The Mountains, California (PRWEB) November 22, 2007
Hey ya'll! We're outta here. Wanna come along? Following a whirlwind odyssey on the Clif Bar's 2-Mile Challenge, The Ginger Ninjas (http://www.gingerninjas.com ; http://mypsace.com/gingermyninja), along with Shake Your Peace!, photographers, journalists, radio programmers, and a slew of road warriors, are laying rubber to the road.
This is the Pleasant Revolution, people! (http://www.pleasantrevolution.net)
In their continued quest for oversized adventure, the Ginger Ninjas are off on a four-month Xtracycle (http://www.xtracycle.com) ride from Nevada City, CA to the pyramids of Chiapas, Mexico. Along the way, the Ginger Ninjas will play spontaneous street corners and scheduled shows in several large venues, and organize a bicycle summit in Mexico City. The Pleasant Revolution is the first off-grid rock music tour, powered with a hybrid human and solar power electric system. Their musical odyssey will be the basis of a documentary by North Beach Films.
OK, OK, imagine this:
Hundreds of cyclists are gathering at your town's biggest intersection. In the middle of the crowd are 4 bikes thumping James Brown like an armada of low-riders - but the beauty is, there are no cars. Suddenly the crowd thunders into unison motion, rolling loudly through the town, turning heads, evoking cheers and applause. Over the music the onlookers can hear:
"…This is the Pleasant Revolution people! We started pedaling on November 1st, 2007 in the Sierra Mountains of Northern California, and we're going to keep pedaling over 5,000 miles, all the way down to the ancient pyramids of Chiapas, Mexico. No sag wagons or cars to help us haul our stuff - we're carrying it all on our bikes! Right now we're riding to a FREE concert up on the hillside of your town, and this is your invitation to come and watch the sunset with us! Rock the bike with The Ginger Ninjas, Shake Your Peace!, and your local bands too!
You're invited to pedal our 1000-watt human-powered P/A! That's right - our sound system runs on YOUR leg power. Sexify your biking legs while making some noise! Yeah - I said make some noise people! (crowd cheers) Every song is an audience participation song! Bike culture's blowin' up y'all - come find out how to do your 2-wheeled thing, and get in on this Pleasant Revolution!"
Up on the hillside the 14-person Tour Caravan sets up incredibly fast, kicking their Xtracycle longbikes back and engaging the pedal-power units. As the band strikes up, the crowd smiles and knows they're in for a treat. In the cheering after each song, a new audience member volunteers to take a turn pedaling one of the 4 bicycles that run the P/A system. Everyone feels the magic in the air: "We're doing it ourselves. This is human power. This is the Pleasant Revolution…."
Check out our route and show dates at http://www.pleasantrevolution.net, and let us know if we'll catch you along the way! Do you have a great venue idea? Do you know any righteous, peaceful, rocking, green, bike-culture, conscious-minded events happening? Check the itinerary and get back to us at info@gingerninjas.com
The Pleasant Revolution
Tools, Thoughts, Soundtrack, Images
We think our lifestyle is unusual--in its variety, and its commitment to a certain ethic. It involves lots of bikes, some mind shaking love groove explosive mountain roots music, a rundown-but-magic farm/gas station/bar/blackberry field, at least two brilliant bipolar friends, our own sticker factory, a quiver of kayaks, quite a few steep hills (up and down), an abundance of yummy grub, a Golden Bubble, a fair bit of poison oak, as little gas as possible, and a 1970s high-clearance school bus named The Millennium Van. And the ins and outs of trying to sweeten our world while having as much fun as possible.
###