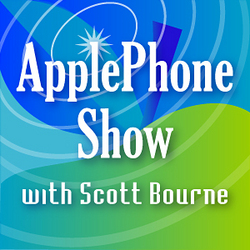 San Francisco, CA (PRWEB) November 27, 2007
Scott Bourne, host of the The Apple Phone Show (http://applephoneshow.com), has announced the top ten accessories that will make every iPhone owner happy this Holiday.
With 1.4 million iPhones out there in the wild, chances are you know someone who owns an iPhone. If that someone is on your holiday gift list, look at this compilation of great gift ideas ranging from $2.95 to $349.95.
1) Vibe Duo HDST -- Replace the standard iPhone headphones with the Vibe Duo HDST w/switcher. These headphones sound better than the original iPhone headphones, have the same features and stay in your ears better. $99.95. http://www.vibe.com.
2) Screen Puff -- The Screen Puff is a lint-free cloth that you can use to clean your iPhone screen. It won't scratch or harm the screen and is very handy to carry. $2.95 each or $15.95 for the Happy Pack (all seven colors). http://www.boxwave.com/products/screenpuff/index.htm
3) The Invisible Shield from Zagg, Inc. - The Invisible Sield is the best choice for basic iPhone protection. It's affordable yet highly effective at protecting against scratches and damage. The product comes in two versions: screen only or full body. The $24.95 version provides full body protection. It's easier than you think to apply the shield and Zagg has a series of videos on their site to help walk you through the installation process.
http://www.shieldzone.com/item_description/APLIPHONE.html?gad=CM2cr6YDEgjupuDC6mn8WxjV1db9AyCtza4x
4) Bang & Olufsen Earset 2 -- It's the most expensive bluetooth headset for the iPhone. But, if you want cool style and design, the B&O Earset 2 ranks amongst the best. This headset is as elegant as any headset can be. B&O is one of the few companies that can match Apple in terms of design and delivery of cool products. $349.95. http://www.bang-olufsen.com/page.asp?id=183&bhcp=1
5) Jawbone Bluetooth Headset - If you can't afford the B&O headset, this is the one to buy. It comes with a voice activity sensor that identifies and isolates speech and subtracts the unwanted
background noise, boosts the frequencies that increase voice intelligibility, offers up to 6 hours talk time and 200 hours standby time. It's very stylish, sounds great and adds functionality to the
phone. $119.99. http://www.jawbone.com/colors.php
6) Jabra EarGels -- Here's a way to make the iPhone earbuds (or other devices with earbuds) fit like gloves. The EarGel's design is such that it funnels sound into your ear canal, and causes the "increase" in the audio output level. It comes in a package of 6 gels (S, M, L - 1 each for your left and right ears), you can't afford not to try it for yourself. If you are bothered by an ill-fitting headset, getting a package of the Jabra Replacement EarGels and taking them for a test run could be just the thing to take your iPhone experience to another level. $4.95 per package. http://www.shop.jabra.com/jabra/Shop?DSP=30100&PCR=1:150:1200&IID=2943CLR&itemskuid=2943CLR
7) AppleCare for the iPhone -- Long-time Apple users know that AppleCare is a must-have feature with any new Apple product. While most Apple products come with good warranty support, extending that warranty is often very affordable given the fact that almost ANY repair outside of warranty will cost more than AppleCare protection. In the case of the iPhone, it extends hardware coverage to two years from the date of iPhone purchase. $69.
http://store.apple.com/1-800-MY-APPLE/WebObjects/AppleStore.woa/wa/RSLID?mco=19D94099&nplm=MB135LL/A
8) Monster iCableLink for iPhone - The Monster iCableLink is a headphone adapter that allows iPhone users to enjoy iPhone music and listen to calls with any set of headphones featuring a 1/8 (3.5mm) mini-jack headphone connector. There are similar adapters on the market, but this one is flexible and thereby reduces stress on the headphone jack. $9.95. Mfr. Part # 123893
http://www.monstercable.com/productdisplay.asp?pin=4707
9) Speck Toughskin iPhone Case - There are approximately 100 different cases available for the iPhone. The Speck Toughskin offers very tough rubberized protection that still allows the use of all the features of the iPhone without removing the case. It also comes with a belt clip that acts like a stand. $29.95. http://www.speckproducts.com/products/toughskin/iphone/93
10) Kensington Car Mount for iPod - Although made for iPods and MP3 players, this is the device to get if you take your iPhone with you in the car. It is a safe and effective way to mount the iPhone without blocking key dashboard controls. Using a simple suction cup with lever, you can position and re-position the car mount in one or more cars, offering complete flexibility. The mount won't scratch the phone and offers a hands-free way to enjoy the iPhone on the road. $29.99.
http://us.kensington.com/html/12630.html
About Scott Bourne
New media pioneer Scott Bourne is host and executive producer of The Apple Phone Show on the Podango Network, the most popular weekly podcast covering the iPhone. He is also an author, lecturer, and the president of Podango Productions in San Francisco, CA. Scott founded the world's first Internet-only radio network, Netradio, and is a co-host on several prominent podcasts including MacBreak Weekly, the iLifeZone and GMT. He has also been a featured speaker at events such as Macworld Expo and the Podcast & Portable Media Expo.
Scott's been covering technology since 1992 and been an Apple user since the days of the Apple II. He's owned just about every Apple product ever made (including a Lisa) and has devoted much of his time to helping others get the most from their technology.
###