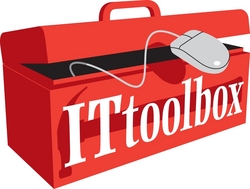 The ITtoolbox community has been a great experience overall. Not only do I have a respected forum for publishing my blog, I receive great feedback from those who read my entries.
Scottsdale, AZ (PRWEB) November 28, 2007
ITtoolbox, the online community enabling professional IT knowledge sharing, today announced that 250,000 profiles have been created by the IT community since the launch of ITtoolbox Professional Networking (http://my.ittoolbox.com/signin.asp?r=) in September 2006.
Through professional networking at ITtoolbox, members of the IT community create online profiles that serve as virtual representations of themselves. These profiles help the community to connect and share knowledge with peers to do their jobs better.
Rebecca Gill (http://www.ittoolbox.com/profiles/techgroup), Vice President for Technology Group International and author of the ITtoolbox blog, "ERP, Etc.," has been using ITtoolbox Professional Networking since January 2007. "ITtoolbox Professional Networking is designed for the information technology professional. This focused environment has allowed me to connect and communicate with individuals specific to the technology industry and those who benefit from the enterprise software offered by my company," commented Ms. Gill. "The ITtoolbox community has been a great experience overall. Not only do I have a respected forum for publishing my blog, I receive great feedback from those who read my entries."
Additional examples of ITtoolbox Professional Networking users include:
-- Luis Suarez (http://www.ittoolbox.com/profiles/elesar), a knowledge management consultant for IBM Global Business and author of "elsua: The Knowledge Management Blog."
-- Chris Day (http://www.ittoolbox.com/profiles/chrisdaypinkyltd), CTO of Pinky Ltd. and active member of the Abinitio technical discussion group at ITtoolbox.
-- Dennis Stevenson (http://www.ittoolbox.com/profiles/dennisstevenson), IT Director for Honeywell and regular contributor to the ITtoolbox Wiki program.
"Our focus with ITtoolbox Professional Networking has been to help streamline the knowledge-sharing process for the IT community, making it easier for peers to interact and to find the postings that will help them," commented Dan Morrison, co-founder and CEO of ITtoolbox. "With the success of professional networking, we have taken an important step forward in our goal of becoming a daily workflow tool used throughout the IT profession, allowing workers to benefit from the experience of their peers for on-the-job decision making."
Advertisers seeking to engage target audiences also benefit from ITtoolbox Professional Networking, which helps them to join the conversation taking place between community members at key points in the purchasing process. These benefits include:
-- Demographic, contextual, and geographic targeting with user profiles and highly granular user-generated content.
-- Opportunities for recruiters to reach high-quality candidates for open IT-related positions.
About ITtoolbox
ITtoolbox is an online community, enabling peers to share professional knowledge about information technology. Since 1998, ITtoolbox has helped professionals make IT decisions and stay current in the rapidly changing technology market through peer collaboration. The ITtoolbox platform incorporates a professional network, blogs, discussion groups, and a wiki, facilitating targeted community interaction in which IT advertisers can participate through a proprietary contextual matching system. This combination of community and advertising value has made ITtoolbox a leading destination for professionals and a leader in online advertising, performing for more than 800 clients, including Microsoft, IBM, Oracle, Dell and HP. For more information visit http://www.ittoolbox.com/ .
ITtoolbox is a division of the Corporate Executive Board (NASDAQ: EXBD). The Corporate Executive Board Company is a leading provider of best practices research and analysis focusing on corporate strategy, operations and general management issues. CEB provides its integrated set of services currently to more than 3,700 of the world's largest and most prestigious corporations, including over 80% of the Fortune 500. These services are provided primarily on an annual subscription basis and include best practices research studies, executive education seminars, customized research briefs and web-based access to the program content databases and decision support tools. The company is located in Washington DC. For more information, please visit http://www.executiveboard.com/contact+form .
###