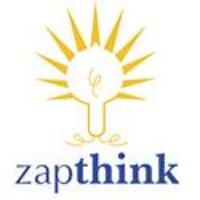 Enterprises desperately want to be on the right track with SOA and need external help and guidance
Balitmore, MD (PRWEB) November 30, 2007
ZapThink, LLC, an Enterprise Architecture (EA) strategy advisory firm and recognized authority and master of Service-Oriented Architecture (SOA) today announces the industry's first EA validation, verification, and mentorship services offering, providing a comprehensive, customer-tested methodology and defined deliverables to assess, validate, and verify existing EA and SOA initiatives. Unlike typical SOA consulting offerings, ZapMentorship™ offers EA practitioners a valuable set of tools, metrics, templates, and advisory that lowers the risk of SOA initiatives for practitioners that are on the hook to provide SOA solutions to meet the strategic requirements of the organization.
"From our over 30 years of combined experience in SOA and EA, ZapThink has proven experience in providing customers practical guidance for solving critical agility and change management problems by leveraging SOA best practices," says Ronald Schmelzer, Managing Partner at ZapThink. "ZapThink helps these customers put SOA into practice in a rational, well-paced, and best practices-driven manner that helps to validate projects and recover SOA initiatives that may be heading down the wrong path."
ZapMentorship provides hands-on guidance, knowledge transfer, and advisory that aims to help customers adopt best practices and methodologies for ensuring SOA success. The ZapMentorship offerings include:
-- ZapAdvisory™ -- Unlimited, authoritative, and on-demand advisory service focused on issues relating to SOA success, featuring unlimited access to all ZapThink resources, include advice from all ZapThink partners for all of a company's employees.
-- ZapValue™ -- Establishment and validation of SOA business case, ROI, and assessments focused on a particular problem domain to determine the fastest, lowest risk path to SOA value.
-- ZapAssurance™ -- Guidance and methodology for assuring the quality of SOA implementations and SOA benchmarking to baseline approaches with existing best practices.
-- ZapMethods™ -- Detailed best practices intellectual property and associated guidance for supporting architectural activities and artifacts, including service models, business process-driven services, data-driven services, architectural artifacts, and governance framework development.
-- ZapValidation™ -- Guidance for end user practitioners, consultants, and vendors that provides third-party validation and endorsement of approaches and methodologies.
In addition to ZapMentorship, ZapThink today announces a special One Day Quick Assessment that accelerates the pace of SOA adoption and progress. For $3595, ZapThink offers customers the opportunity to spend a day with a Master Architect (including David Linthicum and Jason Bloomberg,) at the customer's site focused on providing a checklist-driven methodology to quickly assess an organization's architectural, technological, organizational, governance, and infrastructural capabilities for SOA and potential next steps.
"Enterprises desperately want to be on the right track with SOA and need external help and guidance," says David Linthicum, Managing Partner at ZapThink and head of SOA Mentorship offerings at ZapThink. "However, the rapid growth of the SOA marketplace is making it difficult for end users to separate vendors and consulting firms with high value offerings from those who simply market their efforts as being Service-oriented without the credibility or capabilities to deliver. As such, end users turn to ZapThink for guidance in matching the capabilities they have for delivering architectural offerings with the emerging best practices they require to ensure a high degree of architectural success."
To learn more about ZapThink's offerings, go to ZapThink ZapMentorship or contact ZapThink at zapmentorship@zapthink.com. ZapThink offers no-obligation, free consultations for those interested in learning more.
About ZapThink, LLC:
ZapThink is an Enterprise Architecture (EA) strategy advisory firm. As a recognized authority and master of Service-Oriented Architecture (SOA) and EA, ZapThink provides its audience of IT practitioners, consultants, and technology vendors with practical advice, guidance, education, and mentorship solutions that assist companies in leveraging SOA to meet their business needs and presenting viable SOA solutions to the market. We provide this audience a clear roadmap for standards-based, loosely coupled distributed computing - a vision of IT meeting the needs of the agile business. ZapThink is headquartered in Baltimore, MD. Its customers include Global 1000 firms, consulting companies, and emerging technology firms.
Contact:
Ronald Schmelzer
ZapThink, LLC
108 Woodlawn Rd
Baltimore, MD 21210
Phone: +1 (781) 207-0203
###