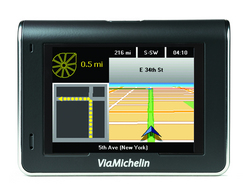 Use the Michelin Guides as a companion to plan a trip or visit a restaurant and simply send the address from the ViaMichelin site straight to your X-970 GPS.
New York City (PRWEB) November 30, 2007
More than 1,000 North American addresses of Michelin-recommended restaurants and hotels are now available on ViaMichelin.com, a leading international travel planning and mapping Web site. For routes that include New York City or the greater San Francisco Bay area, ViaMichelin.com now includes points of interest and locations from the two Michelin Guides. These points of interest can then be downloaded to a ViaMichelin Navigation X-970 GPS unit.
Restaurant and hotel content from the two newest Michelin Guides, recently launched in Los Angeles and Las Vegas, will be added to ViaMichelin.com in the spring of 2008.
"The ViaMichelin Navigation X-970 portable GPS is the perfect holiday gift for the 'foodies' on your list," said Frederic Radigue, Business Development Manager for ViaMichelin. "Use the Michelin Guides as a companion to plan a trip or visit a restaurant and simply send the address from the ViaMichelin site straight to your X-970 GPS."
Thanks to a rigorous selection process that is applied independently and consistently around the world, the Michelin Guide has become an international benchmark in gourmet dining. The selection is made by anonymous, professional inspectors who are Michelin employees and is based on the same working methods in all countries. For more information about the Michelin Guide, please visit http://www.michelinguide.com.
Through the site, ViaMichelin.com, the ViaMichelin Navigation X-970 GPS has access to the continually updated reviews of the Michelin Guide inspectors in North America. The rich content and diverse selection assure users they are making the best dining and lodging decisions with rankings that are consistent from New York to San Francisco.
The ViaMichelin Navigation X-970 is available from Amazon.com, CircuitCity.com, JR.com and at J&R Music World in New York and independent automotive retailers across the country. The unit has a suggested retail price of $399.
Drawing on over a century of Michelin experience in travel assistance and enhanced mobility along with over 20 years of digital mapping experience, ViaMichelin develops digital travel assistance products and services for users throughout North America and Europe. Providing safety, quality, and performance to drivers with sophisticated and user-friendly solutions, ViaMichelin is one of the key players on the GPS market. ViaMichelin.com is one of the most popular online travel assistance destinations, serving as a valuable resource for directions, hotel reservations and restaurant choices.
About ViaMichelin
ViaMichelin designs, develops and markets portable GPS navigation products. Founded in 2000, ViaMichelin has quickly become a leader in the European market for portable GPS navigation. ViaMichelin combines technological innovation with Michelin Group's 100-year history of publishing quality maps and touring guides. For additional U.S. media information and product photos, go to http://www.viamichelin.us/press.
###