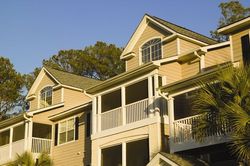 There are plenty of buyers in this market and our auction format brings them out
Newport Beach, CA (PRWEB) November 30, 2007
Freedom Realty Exchange(FRE.com), a real estate auction website and part of the LFC Group of Companies, delivered another successful online auction campaign, selling 24 condominiums at Mercer Point in Savannah, Georgia. The seller allocated approximately half of their available inventory for the auction and all 24 units were sold. Over 100 bidders from all over the country, including Georgia, Kentucky, Florida, Massachusetts, and even as far as California, competed for the units. With such intense bidding activity, the auction was pushed into "Last Call" for nearly two weeks, meaning that after the initial bid deadline was reached, bidding was extended day-by-day until no further bids were received.
The auction featured both vacant and occupied units, with two to three bedrooms and two baths, ranging from 1211 to 1556 square feet. Just minutes from the heart of Savannah's Historic District, Mercer Point at Whitemarsh Island, located between Tybee Island and the Georgia coast, offers amenities like a 6,500-sq-ft clubhouse, lighted tennis courts, a fitness center and a resort-style swimming pool with cabana.
"There are plenty of buyers in this market and our auction format brings them out," remarks Bill Lange, President of the LFC Group of Companies. "Given the depressed housing market, our client had to mount a very aggressive marketing campaign. The developer is very pleased with the results. There is no other way they would have sold this amount of inventory in less than 60 days. We literally shut out the competition; no other condo projects in the area were able to make a sale during our auction campaign," continued Lange.
For more information about Freedom Realty Exchange's online auction program, go to http://www.FRE.com.
Freedom Realty Exchange - part of the LFC Group of Companies
For over 30 years, the LFC Group of Companies have served numerous Fortunate 500 companies, real estate developers, investors, financial institutions and government agencies by auction-marketing thousands of commercial, industrial, land and residential properties with an aggregate value well in excess of $5 billion.
###