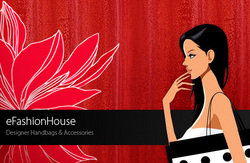 People are getting more comfortable with on-line shopping for expensive items
Sky Valley, California (PRWEB) December 5, 2007
eFashionHouse.com reported today holiday sales have increased 20% over last year and the average ticket order has also increased.
Anna Miller, President and CEO of privately held i-GlobalMall.com,inc., the owner of eFashionHouse.com, reports more customers are shopping for high end designer handbags and accessories on line than in the past few years. "People are getting more comfortable with on-line shopping for expensive items," said Anna.
eFashionHouse.com has been selling luxury handbags and accessories on line for over 12 years. Anna said she has seen many internet company's selling handbags and accessories come and go over that time period. i-GlobalMall.com, Inc. has been profitable since it's inception and the company has refused the "all out growth" approach that many internet company's have chosen.
eFashionHouse has grown internally without any venture capital funding. Instead, eFashionHouse.com has taken a slow and steady profitable approach, growing it's sales and customer base year after year. Anna said she is not interested in selling $30 million a year in sales if it doesn't make you any money - what's the point! i-GlobalMall.com, Inc. is the owner of 7 internet web sites; eFashionHouse.com, BrandsBoutique.com, LuxuryVintage.com, DesignersLA.com, ItalysOutlet.com, ShoppingBrokers.com and ValueBags.com.
i-GlobalMall.com, Inc. is located in Sky Valley, CA. For more information about eFashionHouse.com pleae visit the website located at http://www.efashionhouse.com/ or contact them by sending an email or phone 310-828-1281.
###