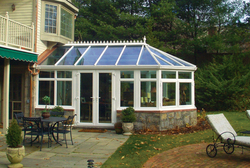 Our Windsor Conservatories offer exciting new choices for homeowners interested in sunrooms with traditional English-style architecture. We couple this look with the latest innovations in durability, security and energy-efficiency
Macedonia, Ohio (PRWEB) December 1, 2007
Patio Enclosures, Inc. (http://www.patioenclosuresinc.com), the largest manufacturer and installer of sunrooms in North America, announces the addition of "Windsor Conservatories," to its latest offering of premium conservatory sunrooms featuring authentic English designs and craftsmanship.
All Windsor Conservatories are designed with fully sculptured conservatory roof systems including decorative cresting and finials that echo the splendor of Victorian England. Beautiful detailing surrounds an advanced aluminum core that provides structural integrity and optimum durability. ComfortGard® C3 low-e conservatory glass, the most energy-efficient in the industry, is standard and keeps occupants comfortable despite outdoor weather extremes. Casement windows have friction hinges that hold their open positions and have no mechanical parts to wear out. Fully sculptured double French doors, with a six-point safety locking system for maximum security, open to permit large furniture and objects to be moved in or out.
Virtually maintenance-free, these rooms are built with thermally efficient, pure virgin vinyl frames over galvanized steel and aluminum to create a structurally sound room with a clean, finished look. Retractable conservatory screens are lowered when windows are open to keep bugs out. Retract them out of the way when windows are closed for a clear, unobstructed view.
"Our Windsor Conservatories offer exciting new choices for homeowners interested in sunrooms with traditional English-style architecture. We couple this look with the latest innovations in durability, security and energy-efficiency," stated Ken Sekley, Patio Enclosures, Inc. President and CEO. "I invite everyone to visit us online or to contact one of our conveniently located branches to view our Windsor Conservatory and all of our sunrooms designs for themselves."
Windsor Conservatories are available in Victorian and Edwardian styles with custom design features like Lantern ceiling detail and a golden oak interior finish. Other options include brass handles, window grids and self-cleaning glass.
Windsor Conservatories are covered by a 20-year warranty on vinyl, glass, screens and locks. For more information on the Windsor Conservatory or all of Patio Enclosures, Inc conservatories, sunrooms and solariums visit Patio Enclosures, Inc.
FOR MORE INFORMATION, CONTACT:
Reginald Carter, Public Relations
Patio Enclosures, Inc.
750 East Highland Road
Macedonia, Ohio 44056
phone (330)468-0700 ext. 2278
fax (330) 908-1123
reggie.carter @ patioenc.com
http://www.patioenclosuresinc.com
###