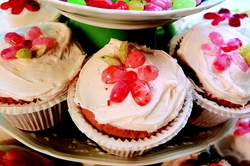 Every day, moms, school nurses, and grandparents contact us with thank you's for Divvies peanut-free, tree nut-free, milk-free, and egg-free treats and how they brought smiles and feelings of inclusion to someone who is generally relegated to bland snacks eaten alone
South Salem, NY (PRWEB) December 9, 2007
Due to great customer demand, Divvies now ships their nut- and dairy-free bakery cupcakes anywhere in the continental United States in wonderfully clever packaging -- that does double duty as a cupcake "kit" as well as a gift box. You can decorate your Divvies cupcakes with creamy chocolate and vanilla frosting that comes in the traditional colors as well as this season's festive green, blue and red. The most satisfying element of these gourmet cupcakes is that everyone, with or without food allergies to nuts and dairy, loves Divvies cupcakes and can gather around to join in the celebration with no worries of adverse allergic reactions.
In addition to cupcakes, Divvies is baking up mouth-watering cookies and popping their special recipe popcorns without using four major food allergens peanuts, tree nuts, eggs and milk. What ingredients they've left out, have been replaced by double dollops of the good and the gooey-like chocolate, oatmeal, molasses and caramel, making these confections not only safe to eat for those allergic to peanuts, tree nuts, eggs and milk, but absolutely delicious for those without food allergies.
For the more than 12 million Americans with food allergies (Wall Street Journal reported 1 in 5 families has a member with a food allergy), deciding what to eat and where can be difficult, and for some, very dangerous. The practical implications of food allergies are challenging on their own, but add the social separation that so often is an unfortunate side-effect of the safety precautions those with food allergies must take, and you have a recipe that needs some work.
When Divvies founder, Lori Sandler's youngest son, Benjamin was diagnosed with severe food allergies and the social as well as medical realities of the problem became clear, Lori and her husband Mark set out to find a solution that would help bridge the divide that sometimes keeps food allergy sufferers on the outskirts of social events where goodies that contain peanuts, tree nuts, milk or eggs are on the menu. After scouring the marketplace and not finding any gift companies dedicated to omitting peanuts, tree nuts, eggs and milk from their ingredient list (even in trace amounts), they began Divvies.
Divvies' mission is to provide delicious fun foods that are safe for those allergic to nuts and dairy and delicious for everyone to share. Divvies' philosophy is that eating should be a shared, inclusive experience. All Divvies products are made in a dedicated facility where no peanuts, tree nuts, eggs or milk are allowed in the door, as well as any ingredients that may have been exposed to these allergens.
Mark and Lori Sandler understand the seriousness of the business they have embarked on, and see the priceless rewards. "Every day, moms, school nurses, and grandparents contact us with thank you's for Divvies peanut-free, tree nut-free, milk-free, and egg-free treats and how they brought smiles and feelings of inclusion to someone who is generally relegated to bland snacks eaten alone," says Lori who has tested, retested and made sure all her recipes are kid- and adult-approved great.
Divvies cupcakes and other fun-foods are Kosher and vegan, and available to share with families and friends across the country by ordering through their website, http://www.divvies.com. The products are carefully packed and marked with a clear and easy-to-read list of ingredients. Because Divvies are made to share, they make great gifts packaged in big, festive boxes with bows and cards even for those without food allergies.
They are perfect hostess gifts, classroom treats, after-school snacks, and birthday party goodies. Whether its their cookies, cleverly packaged moist cupcakes, or their completely addictive popcorns covered in chocolate, caramel or the sugar and salt combo of kettle, Divvies provides the fun-food stuff that makes for worry-free entertaining and crowd-pleasing eats.
In addition to finding Divvies online at http://www.divvies.com , they are also sold at Disney World and select gourmet shops.
Divvies is headquartered in South Salem, NY and is committed to raising awareness and identifying new ways to help parents and children cope with food allergies. Divvies donates a portion of the proceeds of the sales on their gift boxes to the Food Allergy Initiative, an organization dedicated to food allergy research. Divvies is continually expanding their product line, for a press kit, or to place an order, visit http://www.divvies.com.
Thanks to Divvies, life's little pleasures of delicious desserts are now available to share.
Contact:
Mark Sandler -- President
240 Oakridge Common
South Salem, NY 10590
914-533-0333
http://www.divvies.com
###