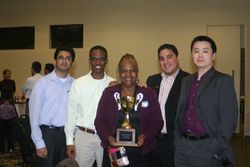 Houston, TX (PRWEB) December 2, 2007
TopSpot Internet Marketing Solutions, a Houston-based Internet marketing company, receives second place at Knowbility's fourth annual Accessibility Internet Rally (AIR) in Houston, Texas. TopSpot participated in this competition for the first time this year.
Led by the local technology leaders of a targeted community, AIR challenges local teams of web professionals to learn about accessibility through a series of training and networking activities. Once they are trained in accessibility tools and techniques, the web teams are matched to a local nonprofit agency in need of web development assistance. After a 10-day planning period, the teams and their nonprofit "clients" all assemble for one high-energy work day in which the new, accessible web sites are finalized. An expert panel of judges review the resulting entries and determine winners, who are recognized at a high-profile awards banquet.
The TopSpot team consists of Sal Baldovinos, Aaron Baxter, Zaki Mirza and Weili Wang.
Top Spot Internet Marketing Solutions is a comprehensive web design, hosting and search engine marketing firm based in Houston, Texas. We specialize in providing B2B and industrial manufacturers, distributors and service providers with comprehensive online marketing solutions.
Founded in 1999, Knowbility is a national 501(c)(3) nonprofit organization that grew from the community collaboration that produced the first Accessibility Internet Rally in Austin, Texas (AIR-Austin).
###